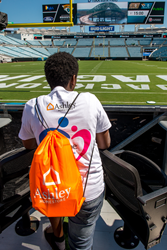 Today, the number of children sleeping in HOPE TO DREAM™ beds nationwide would fill every seat in TIAA Bank Field.
JACKSONVILLE, Fla. (PRWEB) August 09, 2018
To mark HOPE TO DREAM™ Day 2018, the Jacksonville Jaguars and Ashley HomeStore teamed up in a one-of a-kind celebration at TIAA Bank Field that started with an incredible announcement and ended with a great surprise for more than 150 children on the First Coast.
"We gave away our very first Hope to Dream™ bed right here in Jacksonville, Fla. seven years ago," said Ashley HomeStore – Jacksonville, CEO, Howard Fineman. "Today, the number of children sleeping in HOPE TO DREAM™ beds nationwide would fill every seat in TIAA Bank Field."
Fineman then announced that the children at the event would each receive a BedGear Performance Pillow and complete bedding set to go along with the new bed that was being delivered to their homes. In total, Ashley HomeStore will deliver more than 150 complete bed sets to the underserved this week, adding to the thousands that have received bed donations thus far here on the First Coast thru Ashley HomeStore.
Hope to Dream™ is Ashley HomeStore's program that donates free beds to children in need by allotting a portion of all mattress sales to the program. In 2016, Mayor Lenny Curry declared August 8th HOPE TO DREAM™ Day in Jacksonville due to the value Hope To Dream™ brings to the children of Jacksonville and the impact of the partnership between the Jacksonville Jaguars and Ashley HomeStore has on the community.
The Stadium Event is a celebration of Hope to Dream™ and the Jaguars / Ashley HomeStore partnership, which continues to grow and create more opportunities to give back to our local communities. Through the partnership, the Hope to Dream Stadium Sleepover™ was born. Underserved children from around the First Coast have enjoyed unforgettable sleepover and other experiences inside the Jaguars' stadium and were surprised to learn that the beds they were sleeping on would be delivered to their homes the next day. The Stadium Sleepover™ has been replicated by professional sports teams across the country, including the Dallas Cowboys, Miami Dolphins, Utah Jazz, and San Antonio Spurs, among others.
"It's truly remarkable to see the impact that Ashley HomeStore has made in the Jacksonville community," said Scott Massey, Jaguars senior vice president of corporate partnerships. "The Jaguars are proud to have partnered with them for so many years on the Hope to Dream program. Just as our players need rest to compete at the highest level, First Coast kids need a good night's sleep to ensure their success."
Ashley HomeStore and the Jaguars also partner on the game day program, HIT THE SACK, which gifts an additional bed to a local child for every Jaguars sack. Following a record-setting performance by the Jaguars defense in 2017, expectations are high for HIT THE SACK to yield a record number of additional beds once again this season.
"Unfortunately, just because Ashley HomeStore has exceeded more than 65,000 beds, doesn't mean that the problem is solved," says Fineman. "Children are still sleeping on floors, sharing beds with siblings, or sleeping on sofas with no sanctuary of their own. HIT THE SACK brings HOPE TO DREAM™ and the community into the fold in a fun, yet meaningful way – and changes the life of a child forever."
Jaguars and Ashley HomeStore partners have jumped on board to make the event more memorable for the children via donations, including, BedGear, Bono's Pit Bar-B-Q, Culligan, Florida Blue, Genesis Financial, iComfort, Tropical Smoothie and Crest.
The children and their chaperones enjoyed activities, including stadium tours, games, photos with Jaxson de Ville and THE ROAR, and a surprise encounter with Jacksonville Jaguar players. Bono's Pit Bar-B-Q donated a full meal for all participants and volunteers. Ashley HomeStore team members also volunteer their time for the event, as well as FLORIDA BLUE, whose team has participated for four years running.
"Our Florida Blue volunteers are so excited for the Hope to Dream™ event every year," said Darnell Smith, Florida Blue's North Florida Market President. "As a health solutions company, we know the difference that a good night's sleep makes for students. Hope to Dream™ is exactly the type of community event that Florida Blue loves to be a part of. There is no better reward than the smiles on the kids' faces."
Families in need of beds for children ages 3-16 should complete nomination forms in any local Ashley HomeStore showroom, Ashley Outlet™ location or online at http://www.ahopetodream.com.
Ashley HomeStore is the #1 furniture and mattress retailer in America and the #1 selling furniture store brand in the World. Ashley HomeStores has four locations in Jacksonville, Florida (St. Johns Town Center, River City Marketplace, Orange Park @ I-295, and at Glynn Isles Market (Brunswick GA)) and recently opened one of the only Ashley Furniture Outlets in the nation at Southside and Atlantic Blvds. The retailer is an exclusive provider of furniture from Ashley Furniture Industries, Inc., the largest furniture manufacturer in North America. For more information on Ashley HomeStore and our products, visit our website at http://www.AshleyHomeStore.com.
If you would like further information, photography/video, or to set up on or off-camera interviews please contact Tori Fusinaz at tfusinaz(at)ashleyjax.com or at 904-217-7367.