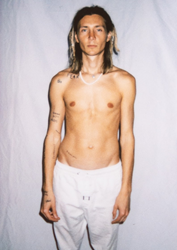 LOS ANGELES (PRWEB) November 30, 2020
On the heels of Subject to Flooding, featuring the acclaimed single "Loser", rising alternative star Jagwar Twin has forged a unique partnership with culture-connected digital design agency CTHDRL to put out music independently. "Happy Face", another Jagwar Twin musical collaboration with Grammy-Nominated producer Matthew Pauling, is the first single in a string of coming releases and is perfectly-matched for the global uncertainty of the time.
Even while the world is literally and figuratively burning around us, we are told to put on a "happy face", hold a smile, and continue going on with our "normal lives". Are we content or are we content? To create fan anticipation around this idea, Jagwar Twin put up a cryptic splash countdown at deathofmygeneration.fun (check out the site archive here), which not only created buzz, but allowed fans to be a part of the campaign narrative by giving them an opportunity to leave voicemails that were then run through a voice digitizer and used as additional marketing leading up to the launch of the full site.
At the end of the countdown, deathofmygeneration.fun flipped to a facial recognition pre-save campaign, allowing fans to unlock the single before it hits DSP's by holding a smile while watching dark video footage with the kind of messages we've been fed going back generations. As long as you smile, the song will continue to play, but stop smiling and the song screeches to a stop. Fans who manage to make it all the way through while holding their smile unlock additional easter eggs including a secret merch capsule, portals to hidden videos that delve further into the meaning of the song, production credits, and more. Fans are also given the option to share their experience on social media.
SEE IF YOU CAN COMPLETE THE #HAPPYFACEEXPERIMENT HERE
"Jagwar Twin encourages us all to dream a bit more…" – V Magazine
"Jagwar Twin celebrates shared humanity…" - Billboard
"Jagwar Twin wants nothing more than for the world to find its light.... the vibrant, inspirational tracks [on] Subject to Flooding encourage a necessary vision of shared humanity." - Paper
"[Jagwar Twin] is all about instilling an uplifting message in his creative output; he wants his art to be a unifying force in such turbulent times… "Shine" which has a palpably uplifting and persevering spirit to it." – American Songwriter
"…the excitement surrounding Jagwar Twin already feels palpable..." - Ones to Watch
About Jagwar Twin:
With the fragile state of the world emotionally, physically, environmentally, and politically, Jagwar Twin exists to find spirit in our shared humanity.
About CTHDRL:
CTHDRL is a creative agency focused on building engineered digital experiences that catch cultural currents.
FOLLOW JAGWAR TWIN
Website | Instagram | Twitter |YouTube | Facebook
FOR MORE INFORMATION:
julia@cthdrl.co