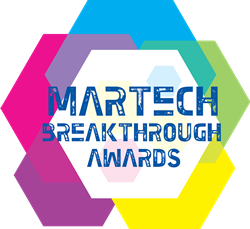 "Jahia is delivering a powerful platform that provides a more engaging, personalized customer experience, and we are thrilled to recognize the Company for their innovation and success in this space" - James Johnson, MarTech Breakthrough
LOS ANGELES (PRWEB) September 23, 2020
MarTech Breakthrough, a leading market intelligence organization that recognizes the top companies, technologies, and products in the global marketing, sales and advertising technology industry, today announced that Jahia Solutions Group, a global provider of digital experience platforms (DXP), has been selected as the winner of the "Best Content Management Platform" award for its jContent solution in the third annual MarTech Breakthrough Awards program.
Jahia's jContent solution is a fully integrated, cloud-based Content Management System that acts as the centerpiece of the entire digital experience. With its power to deliver omnichannel experiences, jContent helps customers create, manage, and publish content on a global scale. Part of the larger Jahia DXP, jContent allows users to take advantage of the wider platform's capabilities while still focusing on their content management needs.
Founded on open-source principles, customers can transform jContent to fit the needs of their organization. Whether through features such as Roles & Permissions, Multi-Site Management, or Multi-Language Capabilities, jContent brings the entire content ecosystem under one roof so bothmarketing and IT teams can better collaborate and deliver results. Plus, with its hybrid publishing model allowing customers to freely choose what digital channels their content goes out on, teams can focus more on quality and speed and less on process.
"As we've worked alongside our customers, we've seen first-hand how varied the content challenges across individual organizations can be," said Michael Tupanjanin, CEO, Jahia. "Sometimes it's an issue of having their CMS work in cohesion with legacy software. Other times, they need to start from scratch and scale quickly. More and more, companies are growing at a global scale and struggling to meet all of their region-specific customer needs. Our solution is designed around the idea that 'one-size-fits-all' is just not feasible in the digital experience space, and that customers need a flexible and easy-to-use solution that they can customize to fit their needs."
The mission of the MarTech Breakthrough Awards is to honor excellence and recognize the innovation, hard work, and success in a range of marketing, sales, and advertising technology related categories, including marketing automation, market research and customer experience, AdTech, SalesTech, marketing analytics, content and social marketing, mobile marketing, and many more. This year's program attracted more than 2,750 nominations from over 15 different countries throughout the world.
"The right content combined with accurate and timely customer data is truly at the heart of an amazing Digital Experience," said James Johnson, Managing Director at MarTech Breakthrough. "Jahia is delivering this combination in a powerful platform that provides a more engaging, personalized customer experience, and we are thrilled to recognize Jahia for their innovation and success in this space. We extend our hearty congratulations to the entire Jahia team on their well-deserved 2020 MarTech Breakthrough Award."
Jahia's platform comes out-of-the-box with over 400 connectors, all tied to industry-leading technologies like Salesforce, Marketo, and Slack. Coupled with jContent's robust developer tools and in-house support team, Jahia has ensured that if there is ever an integration a customer needs, they can work together with them to make it a reality.
About MarTech Breakthrough
Part of Tech Breakthrough, a leading market intelligence and recognition platform for global technology innovation and leadership, the MarTech Breakthrough Awards program is devoted to honoring excellence in marketing, ad and sales technology companies, products and people. The MarTech Breakthrough Awards provide a platform for public recognition around the achievements of breakthrough marketing technology companies and products in categories including marketing automation, AdTech, SalesTech, marketing analytics, CRM, content and social marketing, website, SEM, mobile marketing and more. For more information, visit MarTechBreakthrough.com.
About Jahia
Jahia Solutions Group makes digital experiences simpler. Built on a cloud-based platform, Jahia helps organizations all across the world leverage their content and customer data to fully engage with their customers. With an unparalleled level of flexibility and connectivity, Jahia integrates into existing technology stacks and can be customized to meet each organization's specific business needs and challenges.
Founded in 2002 and headquartered in Switzerland, Jahia has offices in Boston, Toronto and Paris. Jahia's customer community includes hundreds of global brands and organizations, including Ben & Jerry's, Nationwide, NASA and General Motors. For more information, visit jahia.com, read our blog and follow us on LinkedIn.