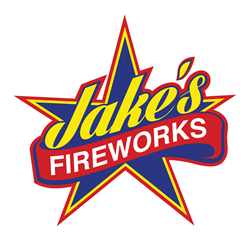 We are constantly working to bring bigger, more colorful and entertaining products to our customers
PITTSBURG, Kan. (PRWEB) June 23, 2014
Jake's Fireworks, leader in artillery shell fireworks and consumer pyrotechnics, announces the launch of new products for the 2014 firework season. New products include: Crushing Candy, Ripple Effect, Patriot, Summer Time, Chickaboo, Heavy Duty, Angry Beaver, among others. Performance videos for all new products can be found on Jake's website and product pages.
"We're very excited to offer these new fireworks to our wholesale and retail customers," Jason Marietta, family member and owner of Jake's Fireworks mentions. "We are constantly working to bring bigger, more colorful and entertaining products to our customers."
Jake's Fireworks with Fold of Honor Foundation is offering a 500 gram red, white, & blue special firework, Folds of Honor, at a promotional price. For each "Folds of Honor" firework sold, $10 will go directly to scholarship opportunities to children and spouses of fallen and wounded military. The product will be available at all participating locations.
"Jakes Fireworks is thrilled to include the Folds of Honor firework as part of our product line," Says Jason Marietta. "We are proud to be a part of the Folds of Honor Foundation and help support our troops and their families this Fourth of July."
Recently, Jake's Fireworks launched a revamped website. The redesign offers quick and easy access to fireworks product catalogs, new product information, videos, social media connections, and features that offer a more comprehensive understanding of Jake's Fireworks contribution to pyrotechnics, product development, community fundraising and high quality fireworks.
"Our website makes shopping for new products easy" Jason Marietta notes. "I urge all our customers to view our product videos and see our fireworks in action." Jake's recommends viewing new product information prior to shopping to get a better idea of what's suitable to purchase for your party. "If you want to plan the perfect fireworks display, our product videos can provide some direction."
A complete online catalog and new products for 2014 can be found here.
###
About Jake's Fireworks
Jake's Fireworks relocated July 1st, 2013 to its new world headquarters to the Pittsburg Industrial Park. The new 500,000 square foot, state-of-the-art facility allows Jake's to carry more inventories and have a central distribution point to serve its many outlets across the United States. One of Jake's proprietary fireworks is Excalibur, the #1 selling artillery shell firework of all time.
Media Contact
Karl Hirsch
818-244-3770 x104