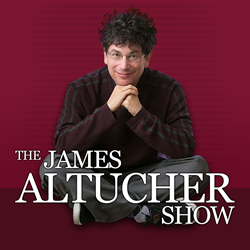 This is the (Mark) Cuban interview you won't hear anywhere else. - David Newman Executive Producer, The James Altucher Show
Baltimore, MD (PRWEB) June 25, 2014
"Luck is a matter of scale, but effort is everything else…" stated billionaire entrepreneur Mark Cuban in a recent interview on The James Altucher show, a weekly podcast produced and distributed by The Stansberry Radio Network. In the candid interview, Cuban shared personal and specific accounts of his career, how he made his fortune, and what lies ahead for the illustrious billionaire.
Cuban and Altucher discussed the hard work it took Cuban – most widely recognized as the owner of the Dallas Mavericks professional basketball team – to become one of the richest entrepreneurs in the world. "Going back to when I was a kid, I always wanted to work for myself. So with MicroSolutions, I got fired, and so I didn't have a lot of choices, but I had a customer to come with me. So my passion for starting a business, my goals - that led into me actually starting MicroSolutions with no money, six guys living in a three-bedroom apartment, sleeping on the floor, but I just went for it."
In addition to a personal recount of his first business (a successful bar in college) to the first company he sold, (MicroSolutions), Cuban gave the inside scoop on how his subsequent business ventures began and then soared to epic proportions. Cuban also gave specifics about his recent case with the Securities and Exchange Commission (SEC) and how the experience made him begin to think of privacy solutions for the digital age, ultimately leading to the creation of his latest venture, Cyber Dust a secure instant messaging environment where communication evaporates over a specified time.
The interview with Cuban was one of many high-profile guests featured weekly on The James Altucher show, which has recently hosted Arianna Huffington, Tim Ferriss and Freakonomics, Stephen Dubner. "Altucher is getting some of the biggest names out there," said the show's Executive Producer, David Newman. "This is the Cuban interview you won't hear anywhere else." The entire interview can be found here.
About The James Altucher Show
The James Altucher Show is the latest podcast added to the impressive lineup of shows produced and distributed by the Stansberry Radio Network. James Altucher encourages listeners to "Choose Themselves" amidst life's chaos to produce fulfilling lives 'above the noise' of the everyday. Listeners can expect The James Altucher Show to features a rich line-up of elite guest who help James spread the Choose Yourself message. Guests of The James Altucher Show include impressive names such as Arianna Huffington, Mark Cuban, and Dr. Wayne Dyer. These all-stars whose expertise and experience combined with James' provides each hour with insight, teaching and entertainment we think you won't find anywhere else.
About Mark Cuban
Since the age of 12, Mark has been a natural businessman. Selling garbage bags door to door, the seed was planted early on for what would eventually become long-term success. After graduating from Indiana University - where he briefly owned the most popular bar in town - Mark moved to Dallas. After a dispute with an employer who wanted him to clean instead of closing an important sale, Mark created MicroSolutions, a computer consulting service. He went on to later sell MicroSolutions in 1990 to CompuServe.
In 1995, Mark and long-time friend Todd Wagner came up with an internet based solution to not being able to listen to Hoosiers Basketball games out in Texas. That solution was Broadcast.com - streaming audio over the internet. In just four short years, Broadcast.com (then Audionet) would be sold to Yahoo for $5.6 billion dollars.
Since his acquisition of the Dallas Mavericks in 2000, he has overseen the Mavs competing in the NBA Finals for the first time in franchise history in 2006 - and becoming NBA World Champions in 2011. They are currently listed as one of Forbes' most valuable franchises in sports.
In addition to the Mavs, Mark is chairman and CEO of AXS tv, one of ABC's "Sharks" on the hit show Shark Tank, and an investor in an ever-growing portfolio of businesses. He lives in Dallas with wife Tiffany, daughters Alexis and Alyssa, and son Jake.