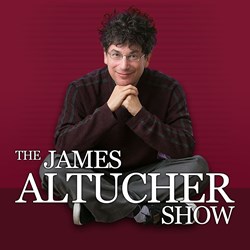 The James Altucher ShowiTunes results as of Sunday 1/26/14. • #1 iTunes Top Podcasts – Business• #1 iTunes New and Noteworthy – News & Politics• #2 iTunes Top Podcasts – All Categories • #1 New and Noteworthy – Business
Baltimore, MD (PRWEB) January 27, 2014
The James Altucher Show, launched Friday on the Stansberry Radio Network, quickly rose to the top of the iTunes charts over the weekend – showing the following rankings in less than 24 hours and quickly overtaking favorites like "Freakonomics" and "Mad Money with Jim Cramer".
Here are the results as of Sunday 1/26/14

#1 iTunes Top Podcasts – Business
#1 iTunes New and Noteworthy – News & Politics
#2 iTunes Top Podcasts – All Categories
#1 New and Noteworthy – Business
Episode one of The James Altucher Show featured best-selling author, Tucker Max who is known for helping break traditional publishing models when he created and self-published "I Hope They Serve Beer in Hell" and "Assholes Finish First" that landed on the New York Times Best Seller list and launched his career as an author and public speaker.
You can listen to the entire episode here.
Coincidentally, in the episode, Max and Altucher discussed breaking the mold on traditional "gatekeeper" industries such as publishing and media distribution and how the internet (including iTunes) is creating massive opportunities for self-publishers of information. "The immediate success of The Altucher Show is very telling," said Stansberry Radio founder, Porter Stansberry, "It shows that people know what they want, they know what they like, they no longer want to receive information that someone else has chosen for them – like we've all been forced to do with traditional media models". "Distribution opportunities like iTunes gives people a freedom to consume information in an entirely new and unique way. It allows the success or failure of content to be judged on its merits and the value it adds to someone's life," said Stansberry. "James' message of personal freedom resonates strongly with his listeners, it's a message we promote widely here at Stansberry as well."
About The James Altucher Show
The James Altucher Show is the latest podcast to be added to the impressive lineup of shows produced and distributed by the Stansberry Radio Network. At The Altucher show, we believe our society is in the midst of a great transformation and as people realize that the quest for money and stock picks is fine but ultimately unfulfilling our anxieties as a society have overwhelmed us. This podcast teaches how people can reinvent and find success in the new world we find ourselves in. The James Altucher Show features non-stop high quality, non-financial guests whose expertise and experience when combined with James' provides each hour with insight, teaching and entertainment we think you won't find anywhere else.
The Stansberry Radio Network is becoming a required stop for financial experts, economists, politicians and the media and is host to a wide variety of prominent industry thought leaders. The Stansberry Radio Network currently distributes three free weekly podcasts, The Porter Stansberry Show with Aaron Brabham, S&A Investor Radio and The James Altucher Show. Stansberry Radio Network also offers 7 additional monthly premium shows via iTunes and StansberryRadio.com.
James Altucher is a successful entrepreneur, investor, board member, and the writer of 11 books including the recent WSJ Bestseller, "Choose Yourself!" (foreword by Dick Costolo, CEO of Twitter).
About James Altucher
He has started and sold several companies for eight figure exits. He's on the board of a billion revenue company, has written for The Financial Times, The New York Observer, and over a dozen popular websites for the past 15 years. He's run several hedge funds, venture capital funds, and is a successful angel investor in technology, energy, and biotech.
He has also lost all his money, made it back, lost it, made it back several times and openly discusses how he did it in his columns and books.
Stansberry Radio Network segments can be accessed at http://www.stansberryradio.com.