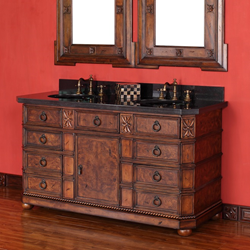 James Martin is one of the few brands out there that's clear and upfront about the materials used in their vanities: 100% solid hardwood that undergoes a 12 step finishing process.
(PRWEB) April 29, 2014
HomeThangs.com – the Online Home Improvement Store has made their goal to deliver the right product to the consumer. With that in mind, shopping and home design tips, as well as special product selections are being introduced.
Competing for space - counter space, drawer space, or sink space - is one of the big frustrations of sharing a master bathroom, and one that's increasingly being answered with storage smart double vanities. The double vanities from James Martin Furniture are ideally suited for a master bathroom, and HomeThangs.com has introduced a simple guide to why this is one brand that's worth considering.
Many bathroom vanity manufacturers focus on specific designs or styles, offering a relatively limited selection that reflects a very specific aesthetic or a particular size bathroom. But James Martin Furniture offers vanities that suit a wide variety of styles, from highly chic and modern to very ornate and traditional. Many of their design collections also come in multiple lengths, including multiple large double vanities as well as smaller, single vanities that make it easier to coordinate the same look through multiple, different sized bathrooms.
James Martin's bathroom vanities also include a variety of add-ons that make it easier and more affordable to buy the whole bathroom vanity set at once. Nearly all their vanities can be paired with stone vanity tops that come in a variety of different stone types and colors. These are pre-cut and drilled for sinks and faucets, so they're ready to install as soon as they arrive. James Martin also frequently includes sinks, mirrors, and matching storage cabinets.
When buying a premade bathroom vanity, it can be a little difficult to figure out how well made the vanity is, especially when buying online or from an unfamiliar brand. Manufacturers can be notoriously cagy about the materials their vanities are made of, how they're made, or if and how they're finished. James Martin is one of the few brands out there that's clear and upfront about the materials used. To keep it simple, nearly all of their bathroom vanities are made out of 100% solid hardwood, with framed furniture style construction. Each vanity undergoes a 12 step finishing process to ensure the wood is sealed and thoroughly waterproofed, which makes them easier to maintain and keep looking great.
More than ever, homeowners are adding double vanities to their master bathrooms to add personal space and storage. But merely adding a second sink is only half the battle: it's also important to make sure there's adequate storage for two. James Martin Furniture does this exceptionally well, offering a wide variety of storage configurations for double vanities of various sizes. Above and beyond the conventional two cabinets with shared drawers in the middle, James Martin offers vanities with individual sets of drawers, unusually sized or placed cabinets, shelves, and even personal cubbies maximize personal storage on both sides of the vanity.
Big dream bathroom remodels don't come around all that often, in no small part because most luxury bathroom fixtures aren't ones that can be replaced every few years - the bathroom vanity included. So it's especially important not only to make sure these purchases will meet current needs, but that they'll continue to work well in the space for at least a good five or ten years. That means paying attention both to what's popular now and how trends are changing. James Martin Furniture strikes a nice balance between the two, focusing a good portion of their collections on vanities that work well with current trends but that have a timeless quality to them that will still look incredible down the road.
HomeThangs.com is not only a home improvement superstore, it also provides expert design tips and a comprehensive shopping guide, taking the ideas from professional interior designers, and offering tips to the consumers on how to pick the products to best suit their needs.