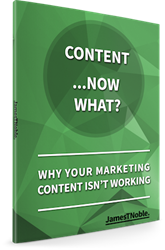 Content marketing is a process, not an event - this is where a lot of businesses go wrong . . . your success requires a solid strategy.
London, United Kingdom (PRWEB) May 30, 2014
Marketing and business growth expert, James T Noble, today launches his new guide to creating a successful content marketing strategy. With the effectiveness of content marketing showing no signs of slowing, Mr Noble's new guide offers actionable advice to businesses who may already be creating content but aren't sure how to make it work for them. More information can be found at http://www.JamesTNoble.com/why-your-marketing-content-isnt-working/
The latest statistics show that 93% of B2B marketers use content marketing but almost 70% of B2B content created goes unused (sources: CMI, Sirius Decisions). Mr Noble offers an explanation for this startling inconsistency by suggesting that many businesses create valuable content but aren't sure what to do with it. Mr Noble commented:
"Strategy is the difference between marketers filling their businesses with new leads and those who scratch their head and ask the question: 'Why isn't my content working?'" He continued,
"I often speak to business owners who have already produced some great, audience-specific content, but aren't sure what to do next."
James T Noble's new guide offers a solution to this problem by including 6 steps to an effective content marketing strategy and also gives readers an insight into the process that James himself follows when creating and distributing content for business growth. With easy-to-implement steps, Mr Noble's guide allows businesses to get the most out of their marketing content.
Discussing his new guide, Mr. Noble explained that many businesses seem to create content simply because they think they should and then become disheartened when they don't see the results they want. Mr Noble explains:
"We know content marketing works, but only when it's done correctly. Too many businesses rely on content creation alone and forget that what they actually do with the content is more important." He continued:
"It's not enough to write a few blog posts and think that customers will come flocking. Businesses must take the time to ensure their content is reaching the right audience and having the desired effect when it gets there. This is where a solid content marketing strategy becomes essential."
Mr. Noble concluded the interview by explaining that without an effective strategy, content marketing will only serve to waste time and resources. He said:
"It's great that so many businesses are giving content marketing their attention but they must ensure they are putting the right steps in place to generate maximum return."
James T Noble's new guide is available now at http://www.JamesTNoble.com/why-your-marketing-content-isnt-working/.
About James T Noble:
James T Noble has helped some of the world's largest brands and companies market their products and services online, including Virgin, Walt Disney Corporation, Coca Cola, Paramount Pictures and many others.
James lives in the UK and works with consultants, coaches and training providers worldwide to accelerate their growth through effective online marketing. Visit the James T Noble website for more information and to get in touch with James at http://www.jamestnoble.com/.