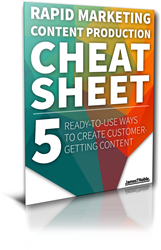 London, United Kingdom (PRWEB) April 30, 2014
Business growth and marketing expert, James T Noble, today launches his new guide to rapid marketing content production. Responding to a growing value deficit in the marketing content produced by businesses short on time and resources, Mr. Noble's new guide contains ready-to-implement strategies for creating compelling content in less time - more information can be found at http://www.JamesTNoble.com/key-to-client-attraction/.
The latest figures from the State of Inbound Marketing Report 2013 suggest that inbound marketing more than doubles average website conversion rates, which may explain why 58% of businesses plan to increase their content marketing budgets this year (Content Marketing Institute). However, as the case for content grows stronger, more and more businesses are rushing to publish as much material as they can.
James T Noble commented, "Inbound marketing is no longer an optional strategy for businesses who want to attract their best clients, and as more business owners wake up to this fact, content pieces abound." He continued, "But, in this case, volume is not necessarily tantamount to quality. In fact, there is more unoriginal, amateur and generally bad content out there than there is genuinely useful content."
Mr. Noble's new guide contains five ready-to-use strategies for producing valuable content quickly. The tips are easy to understand and are designed to be put into place right away. While not all of the tips are applicable to every industry, business owners will be able to implement at least two or three to get immediate results.
Discussing his latest guide, Mr. Noble explained that content marketing only works when businesses invest the time and effort in consistently producing valuable content. However, when businesses are short on such resources, the quality of their marketing materials drops significantly. James expressed his hope that this guide will help even the busiest of business owners to produce truly valuable content without the time-suck. He added:
"I often speak to clients for whom content production remains a good intention. While being 'too busy' is a problem almost any business owner can relate to, these days maintaining a strong content strategy is essential if you want to attract your best prospects and ensure that your business is found by the people who are already looking for what you can offer."
Mr. Noble concluded the interview by explaining that instead of just 'getting content out there' businesses should strive to produce useful, original content, saying:
"If there's one thing that business owners need to remember in this changing marketing landscape, it's that successful client attraction isn't about being louder than the rest, it's about being more valuable."
James T Noble's new guide is available now at http://www.JamesTNoble.com/key-to-client-attraction/.
About James T Noble:
James T Noble has helped some of the world's largest brands and companies market their products and services online, including Virgin, Walt Disney Corporation, Coca Cola, Paramount Pictures and many others.
James lives in the UK and works with consultants, coaches and training providers worldwide to accelerate their growth through effective online marketing. Visit the James T Noble website for more information and to get in touch with James at http://www.jamestnoble.com/.