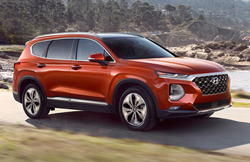 MUSKOGEE, Okla. (PRWEB) March 26, 2021
Every year, the Hyundai brand offers a wide range of available sales events. Specifically, the Spring Sales Event is one of many times in March when citizens looking for a new vehicle can find select specials at Hyundai dealers. Those in the Muskogee, OK area can find such options at James Hodge Hyundai, who is a participating dealer in the event. The sale includes offers on APR financing rates as well as cash offers on popular 2021 Hyundai models.
Well-qualified buyers can utilize a special financing offer upon purchase of a new Hyundai model. Those who are eligible can receive up to zero percent APR financing for 60 months for select 2021 models. Plus, customers can receive zero payments for 90 days when financing at said rate on a 2021 Hyundai vehicle. Such offers can be applied to models such as the 2021 Hyundai Kona or the 2021 Hyundai Tucson. However, the two popular options can also receive up to $3,500 in total savings in replacement of the financing offer.
Beyond financing offers, James Hodge Hyundai has cash specials for various 2021 models in its inventory this month. During the event, qualified buyers can receive cash offers on many 2021 and 2020 Hyundai models. The highest cash offer can be added to 2020 Hyundai Santa Fe models, which can receive $4250 off its initial price. A complete list of cash offers available and eligibility can be found on their sales page.
Customers in the Muskogee area looking to utilize the Spring Sales Event have until March 31 to reach an agreement. Those with questions on any specials or models available are welcomed to contact James Hodge Hyundai directly. An associate can be reached over the phone at 833-331-0067 or in-person at 1330 North Main Street in Muskogee. Otherwise, those looking to view the inventory online can do so at https://www.jameshodgehyundai.com/.