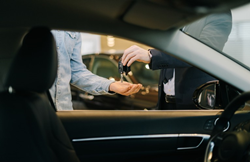 MUSKOGEE, Okla. (PRWEB) January 26, 2021
At James Hodge Hyundai in Muskogee, Oklahoma, car shoppers and owners can benefit from the dealership's vehicle delivery service. As an adjustment to business practices in response to the COVID-19 pandemic, vehicle delivery and pickup are now regular services offered at the dealership.
To alleviate concerns regarding spreading the COVID-19 virus by delivering vehicles, the dealership has adopted the practice of sanitizing vehicles before and after all deliveries and pickups.
For customers buying a vehicle from James Hodge Hyundai who elect to have their new vehicle delivered, delivery drivers will come to drop the vehicle off at the customer's home and sanitize it before turning the key over contact-free. Customers who sell a vehicle as part of the purchase process will be sent a driver who will arrive to sanitize the used car and drive it to the dealership.
Those who already own vehicles that they want to have serviced at James Hodge Hyundai can also elect to have their vehicle picked up by dealership delivery drivers. The drivers will sanitize the vehicle, drive it to the dealership where service will be performed, and then delivered it back to the owner after it has been sanitized a second time.
The dealership remains open during regular business hours for shoppers who do not elect to use the vehicle delivery service. Shoppers are reminded that face masks are required at the dealership for both staff and guests during the pandemic. High touch surfaces are regularly sanitized and all forms of physical contact are avoided during this time. Shoppers interested in learning more about the dealership's protective measures during the pandemic are encouraged to contact a representative online, over the phone at (833) 331-0067 or in person at 1330 North Main Street, Muskogee, Oklahoma 74401.