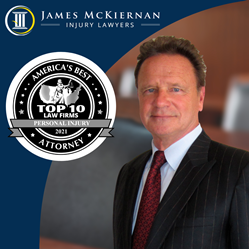 SAN LUIS OBISPO, Calif. (PRWEB) November 19, 2021
James McKiernan, principal attorney of personal injury law firm James McKiernan Lawyers, was recently notified his firm will be named a Top Law Firm in the category of Personal Injury Law by the impartial third-party rating firm America's Best Attorneys.
America's Best Attorneys recognizes lawyers and firms that have reached the top of their profession and continue to excel in their area of practice. For over 35 years, James McKiernan Lawyers has been handling the most serious and complex personal injury cases in California to ensure victims get the full compensation they deserve. The Top Law Firm 2021 lists will be available on the America's Best Attorneys website in early October.
Attorneys and firms are nominated for inclusion in the America's Best Attorneys list through independent research, or by a fellow attorney or firm. Researchers look at advanced degrees, specializations and specific certifications; internet ratings; State Bar standings; and membership in professional associations to determine who will receive recognition by America's Best Attorneys.
The vast experience and commitment to clients demonstrated by James McKiernan Lawyers has created an impressive record of successful outcomes. The firm's lawyers have secured more than $300 million for clients throughout the California Central Coast. It is the firm's mission to handle all cases efficiently and effectively, so victims can resolve their personal injury claims as quickly as possible.
Founder and principal lawyer James McKiernan is a member of the bar association in New York and California. McKiernan is also a member of the Million Dollar Advocates Forum, an exclusive group of trial lawyers who have won million-dollar settlements and verdicts for clients.
For more information, please visit their website or call (800) 200-4878.
More About James McKiernan Lawyers
Based in San Luis Obispo, James McKiernan Lawyers has served those on California's Central Coast for more than 35 years. Since the firm's establishment in 1983, its personal injury attorneys have handled more than 30,000 cases and secured more than $300 million in verdicts and settlements.
James McKiernan Lawyers leverages state-of-the-art technology and a team of case managers and personal assistants to help clients obtain the compensation they deserve. Bilingual staff also ensure that James McKiernan Lawyers can take on cases from California's Spanish-speaking residents.
Anyone in need of a personal injury attorney in California can call James McKiernan Lawyers at 800-200-HURT or visit their website to schedule a free and confidential consultation. The firm will use all available knowledge and experience to determine the best path forward for each individual client and case.