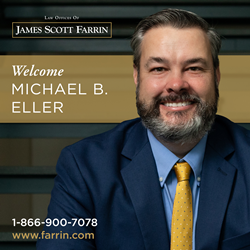 GREENVILLE, S.C. (PRWEB) April 15, 2021
The Law Offices of James Scott Farrin, listed as one of 2021's 'Best Law Firms' by "U.S. News – Best Lawyers,"* continues to grow. The firm recently added another experienced attorney to its lineup of over 50 recognized professionals: Michael Eller. Eller joins a team that recovered over $125 million in gross for over 4,500 clients in 2020.**
Eller, a personal injury and workers' compensation attorney for over 16 years, has extensive experience as both a solo practitioner and a large firm lawyer. Eller formerly served as a member of the South Carolina Bar Workers' Compensation Section Council. He is also a member of the South Carolina Association for Justice and the American Association for Justice.
Earlier this year, the Law Offices of James Scott Farrin expanded operations into South Carolina and opened a new office in Greenville. South Carolinians who have been hurt or who have lost a loved one due to a car wreck, an accident at work, medical malpractice, a defective product, or other forms of personal injury can now call on the skilled advocates at James Scott Farrin. The nationally-recognized plaintiffs' firm has recovered $1.2 billion in total for over 50,000 people since 1997.**
About The Law Offices of James Scott Farrin
The Law Offices of James Scott Farrin is one of the largest personal injury firms in North Carolina and has helped over 50,000 injured people since 1997. Operating from 16 offices in NC and one in SC, many of the firm's 50+ accomplished attorneys are recognized professionals in their fields. The firm focuses on providing quality legal services to as many people as possible in the following practice areas: personal injury, car accidents, workers' compensation, nursing home abuse, whistleblowing, defective products, eminent domain, mass torts, class actions, and Social Security Disability.
Offices in Durham (main), Raleigh, Charlotte, Greensboro, NC and Greenville, SC. Attorney J. Gabe Talton: 280 South Mangum St., Suite 400, Durham, NC.
Contact Information
David Chamberlin
280 S. Mangum Street
Suite 400
Durham, NC 27701
866-900-7078
https://www.farrin.com/
*For information regarding the standards for inclusion for awards listed, visit http://www.bestlawyers.com and http://www.usnews.com.
**Prior results do not guarantee similar outcomes because each case is unique and must be evaluated separately.