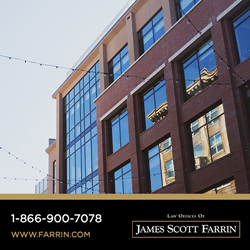 "The Durham Eviction Diversion Program isn't just a good idea, it's a sign post for the kind of smart, caring and equitable community we want to be, as well as a lifeline for people who need and deserve an advocate by their side," said James S. Farrin, President and CEO of the firm.
DURHAM, N.C. (PRWEB) May 21, 2020
Durham has one of the highest eviction filing rates in the state, with staggering numbers that double the national average. The Durham Human Relations Commission calls it an "eviction crisis" that continues to trend upwards in low-income demographics as Durham becomes an increasingly gentrified community. The Law Offices of James Scott Farrin helps sponsor the Civil Justice Clinic at Duke Law School, which is staffed by Duke Law students who help combat homelessness and wrongful evictions in the community, among other things. As a result, numerous wrongful evictions have been avoided.
The clinic, along with Legal Aid of North Carolina, partnered a few years ago to found the Durham Eviction Diversion Program, which provides legal assistance at no cost to those threatened with eviction. Students Meghna Batra and Jared Shadeed, through this program, recently shared a success with one of the clinic's clients.
The client, who had been receiving assistance from DHA's Housing Voucher Program that helps very low-income families to pay their rent, became homeless after her landlord declined to renew her lease due to a criminal charge her minor daughter incurred earlier that year. The client attempted to avoid losing her voucher by vacating her housing early, but it didn't work. She found herself homeless and without recourse to rent a property for herself again.
Batra and Shadeed, under the supervision of James Scott Farrin Lecturing Fellow and clinic Supervising Attorney Jesse McCoy, advocated for the client before a DHA hearings officer. However, the officer upheld the landlord's decision. Not giving up, the two students started post-hearing communications with the DHA's attorney after finding that there was a possibility for federal litigation in the matter. Soon afterwards, the DHA attorney informed the students that the hearings officer's decision was rescinded and their client's housing voucher would be reinstated, thereby allowing the client a chance to secure private rental housing once more.
"Working on this case showed me the importance of persistence in the face of injustice," said Batra. "We had heard that the system seems stacked against certain individuals, and we witnessed that firsthand here. In the face of this discouragement, though, we learned that advocating for one's client does not end with a bad verdict. As a result of our team's persistence, our client will now have access to stable housing in an otherwise tumultuous time."
According to Shadeed, "Without access to justice through the Civil Justice Clinic, a client such as this one would likely be left with no real avenue to advocate for herself. We had to be purposeful advocates, and that entailed using many different skills, from legal research to drafting arguments to effectively advocating in an actual hearing. The value of persistence was quite evident because we had to come back from the negative decision and find an alternative way to ultimately achieve success for our client."
James S. Farrin, in an op-ed published in 2018 in the Durham Herald Sun wrote, "No one who reads the news can ignore gentrification as a potent force shaping and in some ways distorting our city. In addition to our faith in making the justice system work for everyone, we believe that diversity and inclusivity have had much to do with making Durham such a desirable place. An epidemic of avoidable evictions undercuts the very diversity that is the lifeblood of our city…The Durham Eviction Diversion Program isn't just a good idea, it's a sign post for the kind of smart, caring and equitable community we want to be, as well as a lifeline for people who need and deserve an advocate by their side."
Now, about three years after the program's establishment, he said, "I'm proud to see how much the program has succeeded, and to be a part of a clinic that does so much good in the same community we serve. But there's still a lot of work ahead for them. The program needs more public funding and more people leading the charge in the fight against Durham's eviction crisis, a fight we will continue to help in the years to come. However, we hope that more leaders and community members stand alongside us in recognizing the negative impact gentrification has had, and will have, as Durham continues to grow."
About the Law Offices of James Scott Farrin
The Law Offices of James Scott Farrin is one of the largest personal injury firms in North Carolina, and has served more than 45,000 injured people since 1997. Many of the firm's more than 50 accomplished attorneys have won awards and are recognized professionals in their fields. The firm focuses on personal injury, car accidents, workers' compensation, nursing home abuse, whistleblowing, defective products, eminent domain, mass torts, class actions and Social Security Disability. Their headquarters is in Durham, North Carolina. Visit farrin.com for more information.
Contact Information:
David Chamberlin
280 S. Mangum Street, Suite 400
Durham, NC 27701
866-900-7078
http://www.farrin.com