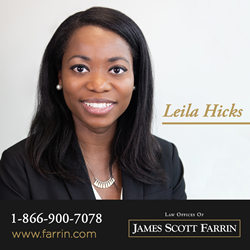 My goal as an attorney is to allow my clients to breathe easier because they have my help.
DURHAM, N.C. (PRWEB) July 01, 2021
James Scott Farrin attorney Leila Hicks has been recognized by the North Carolina Bar Association (NCBA) Young Lawyers Division with the Charles Blanchard Young Lawyer of the Year Award for distinguished and meritorious service. The annual award was established to honor young lawyers and was named for the founding chair of the Young Lawyers Division (1953-55).
This is far from the first honor for rising personal injury star Hicks. In 2017, Hicks was named to The National Black Lawyers "Top 40 Under 40" list.* In 2020, she was inducted into the North Carolina Pro Bono Honor Society. And in 2021, she was named to the "Best Lawyers in America" "Best Lawyers: Ones to Watch" list.* Awardees on the "Ones to Watch" list are recognized as extraordinary attorneys who have been in private practice for fewer than 10 years.
These accolades come as byproducts of a daily push to help people in need. "My goal as an attorney is to allow my clients to breathe easier because they have my help," said Hicks. In addition to fighting for her clients, one of Hicks' main goals is bringing opportunity to young students and inspiring them. As the Law Student Director for the NCBA's Young Lawyers Division, Hicks uses her passion and ingenuity in an effort to connect law students with the resources that they need.
ABOUT THE LAW OFFICES OF JAMES SCOTT FARRIN
The Law Offices of James Scott Farrin is one of the largest personal injury firms in North Carolina and has helped over 50,000 injured people since 1997. Operating from 16 offices in NC and one in SC, many of the firm's 50+ accomplished attorneys are recognized professionals in their fields. The firm focuses on providing quality legal services to as many people as possible in the following practice areas: personal injury, car accidents, workers' compensation, nursing home abuse, whistleblowing, defective products, eminent domain, mass torts, class actions, and Social Security Disability.
Contact Information:
David Chamberlin
280 S. Mangum Street
Suite 400
Durham, NC 27701
866-900-7078
https://www.farrin.com/
Offices in Durham (main), Raleigh, Charlotte, Greensboro, NC and Greenville, SC. Attorney J. Gabe Talton: 280 South Mangum St., Suite 400, Durham, NC.
*For more information regarding standards for inclusion, visit nbltop100.org and bestlawyers.com.