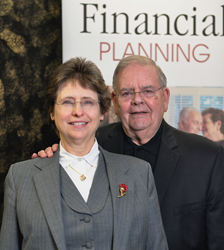 "together they created a network of financial professionals with a commitment to grow" Denis Walsh- President & CEO
Indianapolis, IN (PRWEB) August 10, 2014
Wealth Management and Financial Planning firm Money Concepts was founded in 1979 by industry legend Jack Walsh. His vision was to establish a new way for insurance agents and advisors to deliver professional services to their clients. Shortly after the foundation, James Moss took his 20+ years of insurance experience to Money Concepts with his daughter Rebecca Muller following chose behind.
Since 1985 they have developed a top tier Regional Planning Center within the independent broker dealer of Money Concepts. Individually they have been recognized with numerous awards for their achievements. This year the Father/Daughter team were presented with top honors. Jim Moss received the John P. Walsh Award and Rebecca Muller the Legends Award. However it is their combined experience and skills that has propelled their growth and paved the way for many other advisors within their region,
Money Concepts President & CEO Denis Walsh stated " As I learned this business through my father Jack Walsh, Jim Moss was right there building the Indiana Region and contributing greatly to the education platforms of Money Concepts. Becky brought her expertise of investments to established her own successful practice, Circle Financial Planning. Together they have created a network of financial professionals with a commitment to grow."
Father to daughter, award winning professional to award winning professional, these two have made an impact on the financial services industry and the clients they serve. Money Concepts is pleased to recognize their achievements and their commitment to the financial services profession.
About Money Concepts.
Money Concepts International is a privately owned independent broker-dealer based in Palm Beach Gardens, FL. Established in 1979, Money Concepts Wealth Management has a network of approximately 700 financial professionals nationwide.
In addition to serving independent advisors, Money Concepts provides turn-key wealth management services for community banks, credit unions and tax professionals. Money Concepts advisors provide holistic planning and offer a full array of non-proprietary products and services including advisory and alternatives investment services.
All Securities Offered Through Money Concepts Capital Corp. | Member FINRA/SIPC
Money Concepts Advisory Service is a Registered Investment Advisor with the SEC
All Non Securities and Non Advisory Products through Money Concepts International, Inc.11440 North Jog Road, Palm Beach Gardens, FL 33418. 561-472-2000.
For more information visit http://www.MoneyConcepts.com/Advisor and follow us on Facebook, Twitter and LinkedIn