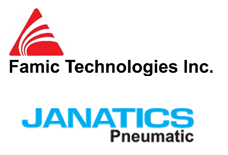 As a privileged distributor, Janatics India will supply the Automation Studio™ software as part of its hardware offer for educational institutions.
MONTREAL (PRWEB) November 24, 2020
"Janatics India shares with Famic Technologies the same values of offering top quality innovative solutions. The complementary offer of hardware and software will be of great interest for educational institutions, including corporate training centers, for delivering both hands-on and remote training and teaching. Janatics distribution network will allow us to jointly achieve higher sales capacity in the educational market in India and in other areas where Janatics is active", declares Mr. Charbel Nasr, President of Famic Technologies Inc.
"The association between Janatics India and Famic Technologies, for hardware and software respectively, is the natural synergy of two best products in the industry. The various libraries of Automation Studio™ cater to almost all the disciplines in a college, like mechanical, electrical, mechatronics, automobile, marine, electronics, instrumentation, and key features like remote access help the teaching faculty and students to learn and practice the experiments from remote location at their comfortable time schedule", says Mr. K. Ganapathy Subramaniam, Head of Application & Training at Janatics India.
ABOUT FAMIC TECHNOLOGIES
Since 1986, Famic Technologies has been leading the industry by designing world-class trade-oriented software solutions in the fields of fluid power, electrical engineering, industrial automation and custom software development. It has always been one step ahead, especially with Automation Studio™, its innovative system design and simulation software used for training, maintenance, validation and troubleshooting of multi-technology circuits in mobile and industrial equipment, covering the entire machine lifecycle to optimize workflows and reduce product time-to-market.
ABOUT JANATICS INDIA PRIVATE LTD.
Janatics, founded in the year 1977, is an Integrated Management System (IMS) certified company for QMS (ISO 9001:2015), EMS (14001:2015) & OHS (45001:2018). It is the leading manufacturer of pneumatic products and systems in India with more than 35000 products in its range, catering to the needs of over 17000 customers in the region. Pre and post-sale training and service support for customers is ensured by 140 plus trained customer support executives, well equipped 14 branches and more than 120 dealers across the country.
Famic Technologies | LinkedIn | Twitter | Facebook | YouTube