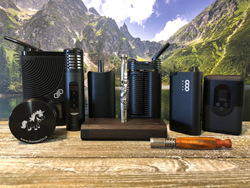 CALGARY, Alberta (PRWEB) December 04, 2018
Jane Mary's is a leader in the Canadian vaping marketplace thanks to their premium product lines, and utmost attention to customer satisfaction. In an era when traditional smoking has been proven to be a detriment to health, Jane Mary's has focused on offering consumers high quality vaporizers and accessories that have been tried, tested and thoroughly reviewed.
Vaping has made a significant impact on the smoking marketplace, and addressed many of the issues that arise from undesirable smoking methods based on combustion. Vaporizers have developed leaps and bounds since their first introduction to the market, and are now available in various sizes that are discreet, and easy to use both indoors and outside. Good quality vaporizers are less harsh on the lungs in comparison to combustion smoking methods, providing a healthier alternative that is welcomed by consumers. And, with the removal of combustion, vaping is also low odor, negating the impact of strong-smelling fumes, and its effect on others.
With the recent legalization of cannabis in the Canadian market the popularity of portable vaporizers has continued to grow, and so has the Jane Mary's brand. They carry popular, premium brands, as well as vaporizers targeted for specific needs such as concentrates, liquids or dry herbs. What sets Jane Mary's apart from other vape retailers is that every single product is thoroughly tested and reviewed by a team of specialists. The benefit of this vetting process extends directly to consumers who are looking for good quality, safe, reliable, and affordable vaporizers that they can trust. Jane Mary's offers a unique Satisfaction Guarantee that allows customers to focus on selecting the best vaporizers for their needs, without having to worry about product safety or quality.
Whether a first-time user or an expert, the staff at Jane Mary's takes the time to help every single customer find the best vaping product for their needs, and goes the extra mile to educate customers and ensure they are comfortable using their new vaporizer. This personal attention to the specific needs of their customers, along with their extensive expertise on vaping methods and products, makes the Jane Mary's brand one that is trusted and loved across Canada.
More About Jane Mary's Vaporizers:
Founded in 2018 Jane Mary's is based in Calgary, Alberta and has an online vape store to serve customers across North America.
Jane Mary's only carries premium vaporizer brands that are tested for quality, including Arizer, Boundless, Davinci, Dynavap, Flowermate, Storz & Bickel, Healthy Rips and Haze. They also continue to expand their product line to include the latest premium quality vaporizers on the market, vaping parts and accessories, storage containers and grinders, all offered at a competitive price point.