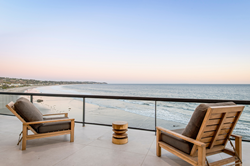 Where Real Estate Is Never Boring!
POMPANO BEACH, Fla. (PRWEB) January 30, 2023
January's Top 10 Celebrity Real Estate News
"The "Harry & Meghan" Netflix Mansion"
The Montecito mansion where Prince Harry and Meghan Markle filmed much of their Netflix documentary "Harry & Meghan" was not their real house, but it was actually a nearby home which is now on the market at $33.5 million. Fit for royalty, the Mediterranean-style, six-bedroom home with 13,599 square feet includes ocean and mountain views, multiple terraces, and a regal great room chandelier and arched windows
"Dua Lipa's Albania Mansion"
Multiple award-winning singer Dua Lipa was born in Britain but her family is from Albania, and she lived in Kosovo during her teen years. According to the "New York Post," Dua is building a new multi-million-dollar mansion in Sarande, Albania.
"Elvis's Grandkids Will Inherit Graceland"
According to representatives of Graceland, Elvis Presley's Memphis mansion will pass to Lisa Marie Presley's three daughters: Riley, Harper and Finley. Lisa Marie died a few days after she returned from hosting an Elvis Presley 88th birthday ceremony at Graceland.
"Sylvester Stallone Goes Bonkers In Real Estate"
Sylvester Stallone has been busy in the real estate biz in recent years, asking $22.5 million for the Hidden Hills home he bought a few months ago for $18 million. Stallone sold his primary residence, an eight-bedroom home in Beverly Hills, to Adele last year for $58 million. In 2020, he sold his custom-built La Quinta golf home for $3.15 million. And in late 2020, Sylvester paid $35.4 million for a waterfront home in Palm Beach, Florida.
"Steve McQueen's Malibu Beach Home"
A favorite actor for baby boomers and one of the highest-paid actors in the world in the 1970s, Steve McQueen was the epitome of cool, both in real life and his movies, including "The Thomas Crown Affair," "The Great Escape," "Bullitt," "The Cincinnati Kid" and "Le Mans." Steve and his equally-big-movie-star-wife, Ali MacGraw, lived in Steve's Malibu Beach home for a few years in the 1970s, which is now completely updated, just as cool as Steve was, and for sale at $16.995 million.
"Tom Petty's "Something Good Coming" Beach House"
Tom Petty's longtime Malibu Beach house recently hit the market at $9.85 million, and already has an accepted offer. Tom bought the 2,200-square-foot home plus guest house in 2010. The beach home was built in 1950 and inspired his hit song "Something Good Coming." Tom used the guest home as a recording studio.
"Bugsy Siegel Murder Mansion"
One of Beverly Hills historic mansions, the home where Bugsy Siegel was murdered in 1947, has come on the market for $16.995 million. Bugsy was renting the home for his mob-girlfriend, Virginia Hill, and was shot in the head through the home's front window. The seven-bedroom, over 7,000-square-foot home has changed ownership several times since the Bugsy murder, currently owned by a Beverly Hills plastic surgeon.
"Las Vegas Wynn Lists NYC Penthouse"
Las Vegas casino-mogul Steve Wynn is rolling the dice again listing his New York penthouse at a whopping $90 million. He also recently listed his Las Vegas mansion for $25 million.
"Richard Gere's Longtime New York Estate"
Richard Gere is asking $28 million for his Pound Ridge, New York estate, where he has lived for over 20 years. Located in upstate New York, the property includes a main home with 11,658 square feet, a picturesque barn, and a lake on 48.7 acres. Richard and his wife recently moved to nearby North Salem.
"Betty White's Brentwood Home Demolished"
All good things come to an end, including Betty White who died in 2021 on New Year's Eve, and her longtime home in LA's Brentwood neighborhood that was recently demolished after selling for almost $10.7 million. Betty's Carmel-by-the-Sea vacation home also sold recently.
For more celebrity home news and celebrity home video tours, visit TopTenRealEstateDeals.com.