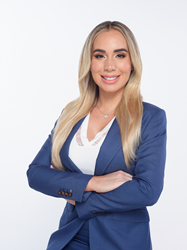 MIAMI (PRWEB) February 10, 2023
The Haute Lawyer Network, well known for its exclusive and luxurious lifestyle publication, Haute Living, is privileged to present Mrs. Jany Martínez-Ward as a member and expert in her field. Haute Lawyer offers a prominent collective of leading attorneys.
The invitation-only network features only two lawyers per market. This partnership allows Haute Lawyer to connect its affluent readers with industry-leading attorneys in their area.
ABOUT WARD LAW GROUP
Award-Winning Attorney Jany Martínez-Ward is celebrating ten years of successfully serving the Spanish-speaking community. To commemorate this momentous milestone, the Ward Law Group held a grand event at the Temple House in Miami Beach, featuring a private concert by Latin Grammy winner Farruko as the night's leading entertainment.
Martínez-Ward is the Co-founder and CMO of the Ward Law Group, one of Florida's largest Personal Injury law firms. The firm represents car accident victims who suffer injuries because of the negligence and wrongful action of others. The Ward Law Group was founded in 2012 by Martínez-Ward and her husband, Gregory Ward, with a laptop and a folding table in a cramped office. Since then, the firm has grown from two to over 125 employees worldwide. Martínez-Ward has achieved 19 settlements totaling over 1 million and has recovered nearly $500 million in settlements for clients. A recent accomplishment is a confidential settlement in excess of $100 million.