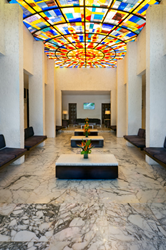 CANCUN, Mexico (PRWEB) February 28, 2020
Since 1986 Jardines de Paz has offered professional, humane services including funerals, wakes, a cemetery and a crematorium in first class facilities in Quintana Roo. In addition, since 2014 it is the only agency in the state that has been affiliated with the Gayosso Network, with a presence in 27 cities in the country, ensuring the highest quality services.
Jardines de Paz has expanded its services to offer life-long 100% transferable pension plans, with easy-to-pay corporate plans that can be offered as a benefit for employees of local businesses, so that more people have access to premium service and the peace of mind that they can protect those they love the most.
Jardines de Paz's professional staff is fully trained to not only assist mourners but to also manage all official and organizational procedures necessary to carry out a funeral from beginning to end. This is a great benefit for a company or hotel's Human Resources or Customer Service department.
https://www.jardinesdepazcancun.com/
Immediate assistance:
+52 998 880 54 33
asistenciainmediata@jardinesdepaz.com
Planning services:
+52 998 880 7160 / +52 998 880 7161 / +52 998 880 7163
ventas@jardinesdepaz.com