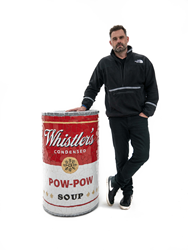 Education beyond primary school is not free in Kenya. As a father, I understand the importance of education for children globally. I am a stern supporter of education as it is empowering and provides both self-worth and self-dependence.
VANCOUVER, British Columbia (PRWEB) November 05, 2021
The collection of Jason Dussault's latest work named "Polycrystal" will be exhibited from November 18th to November 28th, 2021 at the Benjamin Lumb Art House in West Vancouver Canada. Jason will be displaying 5 select sculptures and unique, one of a kind, hand screened prints inspired by snow sports and one of his favorite places, Whistler B.C. Canada. To see the collection visit http://jasondussault.com/exhibitions/polycrystal.html
"Education beyond primary school is not free in Kenya. As a father, I understand the importance of education for children globally. I am a stern supporter of education as it is empowering and provides both self-worth and self-dependence. On the frontier of this battle is the Canadian and Kenyan based One Girl Can Charitable Organization who have provided over 620 high school scholarships and 370 university scholarships to deserving girls in Kenya. I couldn't be more proud to support the great and noble effort of this organization through my art."
A year of secondary school in Kenya can cost 500 dollars, up to half a households annual income. Many girls have to drop out of school as their families cannot afford to pay for their education. Please visit the gallery and help support global education.
"We are so thrilled that Jason Dussault and the Benjamin Lumb Art House are supporting our cause to end gender inequality and are raising funds to educate bright girls living in extreme poverty," says Lotte Davis, Founder of One Girl Can. "If we are ever going to truly move the needle on gender imbalance, we will need to help lift up women in underdeveloped countries, as well as in our own."
Prints are available for Purchase online at https://www.dussaultstudios.com/ or in Gallery November 18th 2021, quantities are limited.
About One Girl Can
One Girl Can is a Canadian and Kenyan registered charitable organization breaking the cycle of poverty and working to achieve gender equality through education and mentorship. The organization's unique holistic model empowers a girl from the time she leaves primary school until the day she gains meaningful employment. One Girl Can is built on a foundation of three pillars that interconnect organically to alleviate gender inequality: We Build. We Educate. We Mentor.
Please visit http://www.onegirlcan.com for more information.
About the Benjamin Lumb Art House
The Benjamin Lumb Art House was born through Grosvenor Americas generous hosting of a rent free commercial space for the purpose of providing artist Benjamin Lumb an opportunity to exhibit his work to the local community. After 4 months of solo exhibition Benjamin began to reach out to emerging, mid-career and established artists in an effort to curate group shows and get to know the local Art community. In the spirit of Grosvenor Americas original intention no commission or rent is imposed upon selected artists however 30% of all sales support various local foundations and charities. Going forward the Benjamin Lumb Art House will continue to collaborate with artists and host shows throughout the world.
About Jason Dussault:
The world's most impactful art is born from the expression of internal struggle. Jason Dussault has wielded the power of that understanding and has channeled that energy through nostalgic iconography. Jason creates an homage to one of the most primitive yet connected mediums in art history, the mosaic.
By combining tile, paint, grout, resin and vintage porcelain, Jason has re-envisioned a 4,000 year old craft that has spawned masterpieces and, has made it his own. A true labor of love, Jason's pieces are created over a two to four week process which he navigates on his own accord, free from assistants or interns. His dedication, curiosity and, sacrifice have culminated in humbleness, the true mark of an artist.
The artist has an impressive list of accomplishments and collaborations including; a commission by FC Barcelona to create a mosaic artwork of their coat of arms, where it was presented at the Rainbow Room in NYC and hand signed by all the soccer players, which was then put up for a charity auction.
A sold-out solo art exhibit in NYC, hosted by the late Glenn O'Brian editor of Interview Magazine and Warhol factory member; one-month Artist-in-Residency at Ruschmeyer's Hotel in Montauk, Long Island, NY, where Jason created a series of vintage mosaic surfboards in an interactive outdoor setting; Invitation to host an artist workshop and talk at the Soho House members club NYC; Rogers production of reality TV show Dussault Inc.; Creator of the iconic Dussault Hoodies; partnership with KISS' Gene Simmons; and an Indy Car collaboration. Jason Dussault is represented by Hoerle-Guggenheim Contemporary Art Gallery in NYC, AXIOM Contemporary in Scottsdale AZ and Philadelphia PA and at Maddox Gallery in Mayfair, London.
To learn more please visit : http://www.jasondussault.com