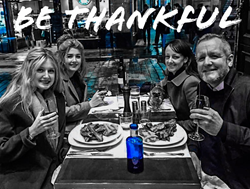 This holiday season, as we celebrate all that we have to be thankful for, it's important to keep in mind those who are battling the hardest health struggle of all – cancer. Not only should we think of those who are fighting, but those who have lost their lives to cancer.
AUSTIN, Texas (PRWEB) November 22, 2018
Jason Katzenback, Co-Founder and CEO of Amazing.com, today revealed things he is grateful for, including the time he had with his daughter who he lost to childhood cancer earlier this year. Katzenback reminded people to be grateful for their good health and urged them to donate to Ewings Sarcoma Research Foundation to help fund research to end childhood cancer. Jason Katzenback explained, "Many families gather around their Thanksgiving table and share the things they are grateful for – Christ, their loved ones, jobs, homes, friends and more. However, many of us take for granted our health. When we're in good health, we don't tend to think about it much, but there are moments in all our lives when we recognize how better off we are when we are healthy. Whether it was a cold and you couldn't breathe out of your nose, a broken hand and you couldn't write, or even a family member suffering an illness, those are the times when we recognize how good we have it when everyone we know is healthy and well."
Jason Katzenback continued, "This holiday season, as we celebrate all that we have to be thankful for, it's important to keep in mind those who are battling the hardest health struggle of all – cancer. Not only should we think of those who are fighting, but those who have lost their lives to cancer. By keeping them in our hearts and mind, we keep their spirits alive. During my family's Thanksgiving celebration this year, we'll think about our daughter and the 16,000 children under the age of 21 who are diagnosed with cancer each year. When our daughter battled childhood cancer, we learned that the life altering disease affects not only our children, but the families that support them."
Remembering his experience Katzenback shared, "While some of us gather in our homes to celebrate the Thanksgiving holiday, others will gather around hospital beds as they or their family members await treatment. As I think about that, I am thankful for many different things. I am thankful for the doctors and nurses who work tirelessly all year, but especially during the holidays. I am thankful for the family members and friends by my side who helped my family as my daughter battled cancer. Although, my daughter lost her battle to cancer, I am grateful for the time I had with her and am thankful I will meet her again in Heaven. I'm also thankful that we have the opportunity to give back to others going through the hard fight against cancer. My wife and I have committed ourselves to being proactive in making more people aware of the high number of children facing cancer each year and supporting others in whatever way we can. As my wife and I went through our daughter's treatments, we saw so many families struggling emotionally and financially. It again made us so thankful for the stability we had in our lives during such a difficult time. That aided in our desire to help other children facing cancer and their families."
In conclusion, Katzenback stated, "This is the first Thanksgiving we will not be able to hold our daughter. For that I am so incredibly NOT thankful. Cancer sucks. I am however, thankful for Thanksgivings we did have with her. I am also thankful for the passion our experience sparked in us. We've gained so much empathy and feelings towards others experiencing what we experienced. We're able to relate to what they've gone through, to feel what they've gone through. That is why we've become so passionate about helping people. The devastation we've seen first-hand makes us want to help everyone. Our passion has allowed us to raise funds and bring awareness to many children who need help as well as raise money for research to help find a cure for childhood cancer. The day we cure this devastating disease I will be forever thankful."
This Thanksgiving, the Katzenbacks have asked for support in raising funds to fight childhood cancer in honor of the children who have lost their lives. The family has asked that those who are compelled to help, donate to the Ewings Sarcoma Research Foundation or use their Facebook page to create a fundraiser to show others how they can help.
Jason Katzenback is the CEO and Co-Founder of Amazing.com. After realizing he wanted more out of life, Jason parted from his career in engineering to get involved with the online-product industry. Jason launched his first multi-million-dollar business in 2005 and has dedicated his life to understanding the online-product industry and educating others on the business to help them change their lives. Katzenback is married to Charlene. Together they have two daughters, Gayle and Jillian. The family lives in Austin, Texas.
About Amazing.com
Amazing.com was co-founded by Jason Katzenback and Matt Clark. Founded in 2011, Amazing.com is headquartered in Austin, Texas. With thousands of students across the world, Amazing.com has established itself as a leading online education organization for entrepreneurs building physical product businesses, selling on Amazon. Amazing.com educates seasoned and new sellers alike on how to build and scale an Amazon business. The company offers training through their SellerPro Membership as well as their flagship course—Amazing Selling Machine.