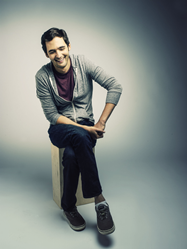 "Jason's energy and enthusiasm will be a 'boost of espresso,'" says Abigail Lorden, vice president and group brand director, Hospitality Technology.
CHICAGO (PRWEB) January 14, 2019
Emmy-nominated television personality and world-renowned futurist Jason Silva will kick off MURTEC 2019, being held March 11-13 at The Paris Las Vegas Hotel & Casino in Las Vegas. Silva is the host of the National Geographic Channel's Brain Games and Origins, broadcast in more than 171 countries.
"Jason's energy and enthusiasm will be a 'boost of espresso,'" says Abigail Lorden, vice president and group brand director, Hospitality Technology. "He's really going to challenge our attendees with mind-stretching ideas for innovation and productivity."
Hailed by The Atlantic as "A Timothy Leary of the Viral Video Age," Silva is considered an extraordinary new breed of philosopher who meshes philosophical wisdom of the ages with an infectious optimism for the future. Combining intriguing insights and a mastery of digital film-making, Jason unravels the incredible possibilities the future has to offer the human race.
MURTEC attendees will be riveted by Silva's use of video and engaging storytelling to explore the co-evolution of humans and technology. In this not-to-miss session, Silva will offer his hyper-enthusiastic insights on how brands must embrace creativity, innovation, technology, philosophy and humanity.
In his opening keynote, "Become an Organization of the Future," Silva will challenge attendees to recognize that innovating at the beginning is easy – sustaining that enlightened path and not falling victim to disruption is where many organizations falter. Throughout the session, Silva will demand that brands think exponentially and question everything. As a rare blend of philosopher/futurist, Silva will challenge attendees to consider new uses not just for technology, but for the human brain as well.
Attendees will leave this session a little more enlightened and perhaps a little scared, but that's a good thing. What seems scary could be the biggest opportunity for success.
Jason has been featured in CBS News, The Atlantic, The Economist, Vanity Fair, Forbes, Wired, TED.com, IO9, Huffington Post, BigThink, and BrainPickings, among others, and he was also featured as part of the Gap "Icons" campaign.
ABOUT MURTEC
Now in its 24th year, MURTEC has become the "Gold Standard" event for education and networking in the restaurant technology industry. The 2019 event will take place March 11-13, at the Paris Las Vegas Hotel & Casino. Hosting 700+ restaurant technology executives and solution providers,
About Hospitality Technology
Hospitality Technology (HT) is the only publication dedicated to covering the role of information technology in improving business performance for hotel and restaurant operators. Hospitality Technology is published by Chicago-based EnsembleIQ.
About EnsembleIQ
EnsembleIQ is the leading business intelligence platform serving the retail, consumer goods, health care, food service; pharmacy and hospitality industries focused on helping customers solve big problems and inspiring bold ideas. EnsembleIQ is a portfolio company of RFE Investment Partners, a private equity investor with more than 30 years of experience investing in growth companies in partnership with strong management teams.