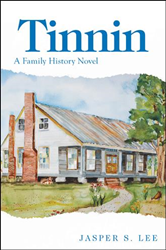 ATHENS, Ga. (PRWEB) January 31, 2023
Jasper S. Lee returns to the publishing scene with the release of "Tinnin: A Family History Novel" (published by Archway Publishing), a historical novel based on true events and tells the story about a young woman as she experiences romance, hardships, and forgiveness while living in the Deep South during the mid-to-late 19th century. This book is a sequel to the previously published biographical novel in 2017 titled "Return to Tinnin."
It is Easter 1863 and 15-year-old Ellen Loretta Shepard is terrified she will be violated by one of the Union soldiers marching through her family's Mississippi cotton plantation while on their way to battle. When they hear word that troops are approaching, the family members busy themselves hiding their valuables. A day later, the troops arrive and create havoc, but thankfully do not burn the plantation or violate Ellen or her sisters.
As the Civil War rages on, Ellen matures into a beautiful young woman who has now reached the age where she wishes to marry an honest and loving man. Unfortunately, good men are in short supply, and the ones she finds are more than twice her age and deemed unacceptable by her family. When she meets the charismatic Jasper Lee at a church event, Ellen eventually marries him, despite her father's objections. But when he dies just six years later, Ellen is left to defend the estate he left her and raise their only son. Will she somehow find a way to move on and realize happiness once again?
"Considerable family research went into writing this story. Family history information stored in old trunks and boxes provided a wealth of information. DNA analysis was much a part of determining genetic family relationships. Online searches and visits to historical agencies yielded useful information," the author says. He adds, "This story reflects love and tragedy along with forgiveness. It also includes challenges women faced before 1920 in not being equal nor able to own property." When asked what he wants readers to take away from the book, the author answered, "Love of family can help overcome differences of opinion." For more details about the book, please visit https://www.archwaypublishing.com/en/bookstore/bookdetails/844532-tinnin
"Tinnin: A Family History Novel"
By Jasper S. Lee
Softcover | 6 x 9in | 348 pages | ISBN 9781665732383
E-Book | 348 pages | ISBN 9781665728300
Available at Amazon and Barnes & Noble
About the Author
Jasper S. Lee is an author and editor who has recently acquired an interest in family history and genealogy. His writing is inspired by his own experiences growing up on a cotton plantation. "Tinnin" is his fourth family history book.
Simon & Schuster, a company with nearly ninety years of publishing experience, has teamed up with Author Solutions, LLC, the worldwide leader in self-publishing, to create Archway Publishing. With unique resources to support books of all kind, Archway Publishing offers a specialized approach to help every author reach his or her desired audience. For more information, visit archwaypublishing.com or call 844-669-3957.