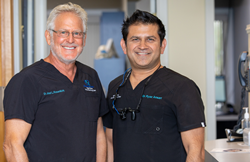 We provide great care to our patients using the most technologically advanced procedures and equipment that is out there in oral surgery.
MANCHESTER, Conn. (PRWEB) November 22, 2019
Board-certified oral surgeons, Drs. Joel Rosenlicht and Ryaz Ansari, offer over 55 years of combined experience in helping patients improve their speech, eating and swallowing through jaw surgery in their Manchester and West Hartford, CT practices. Oral surgery performed by experienced oral surgeons can help improve the function and aesthetic look of a flawed jaw. JawFixers combines experience with technology to offer this successful leading care.
"One of the great things about being an oral surgeon is the fact that we can do so many different things on patients, whether it be fractures, pathology, dental treatment, implants or bone grafting. We provide great care to our patients using the most technologically advanced procedures and equipment that is out there in oral surgery," says Dr. Joel Rosenlicht. "There is no better feeling than seeing the changes we can give to our patients."
Jaw surgery can be used to treat minor and major dental or skeletal abnormalities to the mouth, face, and jaws. This surgery can help those with functional concerns who have trouble eating, speaking or swallowing due to jaw abnormalities. Additionally, jaw surgery can be used for cosmetic reasons, such as to fix irregularities or reshape facial structure. Patients may require jaw surgery if they experience any of the following:

Obstructive sleep apnea
Speech problems
Facial irregularities
Birth defects
Facial trauma
Jaw misalignment
JawFixers offers comprehensive oral surgery and advanced dental procedures to help improve patient oral and overall health. The practice offers wisdom teeth extractions, bone grafting to correct bone loss and dental implant placement to replace missing teeth. Patients can also receive screenings for oral pathology and undergo biopsies with minimally invasive dental lasers. For those with dental anxiety, sedation dentistry, including advanced IV sedation, is available to help put patients at ease and reduce feelings of discomfort.
Those in need of jaw surgery in Manchester or West Hartford, CT are encouraged to schedule a consultation with the experienced oral surgeons at JawFixers. The practice can be reached by calling 860-649-2272 for the Manchester, CT office or 860-232-4606 for the West Hartford, CT practice. Appointments can also be made online at http://www.jawfixers.com.
About the Oral Surgeons
The board-certified oral and maxillofacial surgeons at Jawfixers are skilled specialists offering leading-edge and minimally invasive care at their two practice locations in Manchester, CT and West Hartford, CT. With over 40 years of experience, Dr. Joel Rosenlicht is an esteemed author and lecturer and has developed techniques to further his field. Dr. Ryaz Ansari brings a passion for technology and oral surgery with extensive experience in implant therapy and dentoalveolar surgery. Using advanced imaging, Yomi® robotic-assisted technology and EXPAREL® for opioid-free pain management, this team strives to provide the best care and experience possible for their patients. To learn more about this practice, Drs. Rosenlicht and Ansari or their services, visit http://www.jawfixers.com or call 860-649-2272 for their Manchester, CT office or 860-232-4606 for their West Hartford, CT practice.