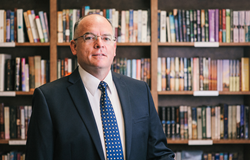 Chowchilla, CA (PRWEB) April 11, 2014
Jay Varney, the Chief of Police in Chowchilla and candidate for Madera County Sheriff, has received the endorsement of the California Peace Officers Association (CPOA). The endorsement of Varney's candidacy was the result of a unanimous vote by the Board of Directors of the CPOA, which was held after a thorough review process, a standard measure of the association in matters such as this.
"We take our responsibility of representing the entire profession seriously and have extensively reviewed [Jay Varney's candidacy] for endorsement," said Chief Richard Lucero, the president of the CPOA.
In response to the CPOA's announcement, Varney was predictably humble and gracious for the endorsement, noting that many of the CPOA's core values are clearly aligned with his own.
"I am honored to have the endorsement of a professional organization of the caliber of the CPOA," said Varney. "It is truly the only statewide organization that focuses on professional and leadership development at all levels of law enforcement."
The mission of the CPOA, which is partly focused on providing a resource for the continued professional and personal development of peace officers in California, is embodied by Varney is several ways. Throughout his 30 years in law enforcement, Varney has always sought out opportunities for continuing education. Varney has earned a Bachelor's degree from Michigan State University and a Master's degree in Criminology at Fresno State University. Varney also earned a graduate certificate from the University of Virginia while attending the prestigious FBI National Academy, a worldwide program that is by invitation only. In addition to his many years of experience, Varney possesses an Executive Certificate from the California Commission on Peace Officer Training Standards (POST).
Varney's candidacy is also bolstered by the varied leadership positions that he has held during his career. 18 of his 30 years in law enforcement have been in leadership roles in police departments in Dallas, Texas and Lansing, Michigan, and currently serves as the Chief of Police in Chowchilla. Chief Varney has held his current position since 2004.
It is likely that Varney's excellent service record and experience were central factors in receiving the CPOA's endorsement, with the clear value he places on continuing education serving to further solidify the endorsement.