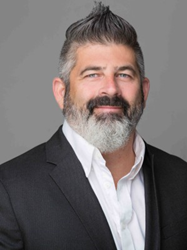 As a licensed Realtor, Jay has found that, surprisingly, many of the skills that are inherent in the restaurant business, translate quite well to Real Estate.
WASHINGTON (PRWEB) August 17, 2022
When Jay Caputo decided in 2018 that he was going to retire from the only career, and passion, he had ever known, he was a bit scared. As a professional chef from the age of 19, he immersed himself in his career and achieved amazing successes. He owned, and operated, several successful restaurants, and had the honor of receiving the prestigious James Beard Award Semi-Finalist nomination on 5 occasions. In his mind, Jay's culinary journey was complete. It was time to embark on a new journey, one that put his family above all else. And it is within this second act in which Jay has found his true calling.
As a licensed Realtor, Jay has found that, surprisingly, many of the skills that are inherent in the restaurant business, translate quite well to Real Estate. The attention to detail, intense work ethic, and commitment to customer service are the common themes that have driven his success, and the rise has been swift. Since officially transitioning in late 2019 into real estate, he has helped 100's of clients with their homes, and received awards such as Rookie of the Year, Rising Star, and Top Producer from numerous publications. Jay attributes his success to little more than hard work, attentiveness to his client's needs, and a new passion to learn and become the best at his craft.
In 2021, when The Caputo Group was created, Jay vowed to keep the focus simple---how can we help buyers, sellers, and investors get what they want?! The team has rallied around this plan, and the results have been tremendous. TCG has quickly gained respect within the industry and has since aligned with the leading brokerage in the DMV, Compass. This partnership is destined to succeed, with Jay and his team committed to using the extensive marketing and data capabilities of Compass to create more opportunities for clients to get what they want. And at the end of the day, this is the ultimate goal of The Caputo Group…to help their clients achieve their dreams in Real Estate. This has allowed him to realize his dream to put his family first, and he wouldn't have it any other way.
Visit Jay Caputo's Haute Residence Profile: https://www.hauteresidence.com/member/jay-caputo/
ABOUT HAUTE RESIDENCE
Designed as a partnership-driven luxury real estate portal, Haute Residence connects its affluent readers with top real estate professionals, while offering the latest in real estate news, showcasing the world's most extraordinary residences on the market and sharing expert advice from its knowledgeable and experienced real estate partners. The invitation-only luxury real estate network, which partners with just one agent in every market, unites a distinguished collective of leading real estate agents and brokers and highlights the most extravagant properties in leading markets around the globe for affluent buyers, sellers, and real estate enthusiasts. HauteResidence.com has grown to be the number one news source for million-dollar listings, high-end residential developments, celebrity real estate, and more.
Access all of this information and more by visiting http://www.hauteresidence.com