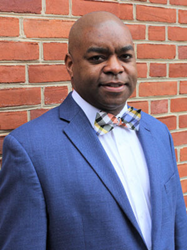 "Joining FL&H allows me to do what I love—supporting this community by bringing in new businesses and other commercial and private ventures." - Jay Mason, Frederick Land and Home
FREDERICK, Md. (PRWEB) May 19, 2020
Jay Mason has joined Frederick Land and Home (FL&H) as an associate broker of commercial real estate sales and leasing. Mason was a former sales and leasing associate with Verita Commercial Real Estate.
"We're delighted to welcome Jay to Frederick Land and Home," says Thomas R. Rozynek, associate broker, lead consultant and founding member of FL&H. "He has the depth and breadth of experience to make a difference for our company, and for the businesses and people of the county."
A licensed realtor for over sixteen years, Mason is also an active member of the Frederick community. He serves on the Frederick County Board of Education as vice president and sits on the boards of Habitat for Humanity of Frederick County, the Rotary Club of Frederick and Eliminating Achievement Gaps (EAG). He has also been involved with the Boys and Girls Club of Frederick County Board, the Student Homelessness Initiative Partnership (SHIP) Board, the Frederick County Affordable Housing Council (AHC) and the United Way of Frederick County.
Mason's extensive service experience leaves him uniquely qualified to speak to the business opportunities and quality of life in Frederick County. "Joining FL&H allows me to do what I love—supporting this community by bringing in new businesses and other commercial and private ventures," says Mason. " I am confident Frederick will return to its $11 billion economy and the vibrant community we all love to work, play and raise a family in."
FL&H provides residential, commercial and land real estate services. To learn more, visit http://www.frederickland.com.
About Frederick Land and Home (FLH)
Frederick Land & Home (FL&H), formerly Frederick Land Company, is a full-service brokerage and consulting firm in Frederick County. Established in 1992, Frederick Land & Home associates have more than 50 years of experience in real estate transactions in the local Maryland area. Whether you intend to buy, sell, or lease residential or commercial property, allow us the privilege of assisting you in a successful transaction. Our wide range of services makes us one of the few firms in Frederick County that can fully assist you with every aspect of your real estate needs.