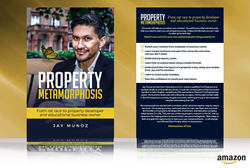 Describes the author's journey from rat race to property developer and educational business owner.
CHELMSFORD, United Kingdom (PRWEB) January 12, 2021
The author has written the book to share his story of the entrepreneurial journey he travelled as a foreign student studying in the UK to becoming a property business owner and mentor. A journey that he calls "a story of perseverance that created a metamorphosis."
The book will be available to purchase on Amazon as of Tuesday, 19 January 2021 at 11:00 AM (London), with a book launch preview available at https://www.assetsforlife.co.uk/propertymetamorphosis.