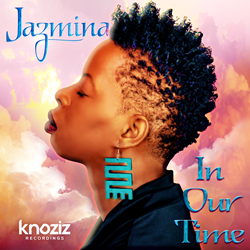 Jazmina is back with the perfect lockdown tonic - the stripped back and chilled out "In Our Time" EP
LONDON (PRWEB) February 01, 2021
Knoziz Recordings is proud to present Jazmina's "In Our Time" EP - the perfect lockdown tonic.
Spanning five tracks, "In Our Time'' weaves a thread between folk and bossanova, sewn together with Jazmina's soulful voice. The music's rawness and Jazmina's evocative lyrics express a woman's inner thoughts – her desires, struggles and heartaches.
In Our Time is a departure from the soulful house that Jazmina is more well known for. This down tempo EP is no less rousing and evocative; a timeless work with cross genre appeal.
Track listing
In our time
Daylight
Peace in this town
Travelling
Hard for me
"Jazmina - In our Time" is available on all major music platforms: https://knoziz.fanlink.to/jazmina_in_our_time
About Jazmina
Hailing from four generations of preachers and musicians, Jazmina was discovered in the Rutgers University's Liberated Gospel Choir by Ace Mungin (AceBeat Records) and introduced to house music.
This was the beginning of her career at the legendary Club Zanzibar, during which time she joined INTENSE and gained recognition for her vocals on the hit track "Let The Rain Come Down," a house classic to this day. Later tracks, such as the underground classic "I See You," Shelter's smooth "High on Hope," and KULT's funky "Good Time" solidified Jazmina as a legendary House music princess.
Over the course of her career, Jazmina has worked with legendary producers and vocalists, including Tony Humphries, Kerri Chandler, Louie Vega, Johnny Dangerous, Willy Washington, Kenny Bobien, Darryl D Bonneau, Barbara Tucker, and CharVoni.
The way her gospel-trained voice soars on classic tracks like "Rescue me (Why Don't U)" and "It Ain't Easy" is the reason her vocals are still regarded among dance music's most distinct and pristine to date.
These days, Jazmina shares her voice as a Theomusicologist with The Poor People's Campaign: A National Call for a Moral Revival in North Carolina. She is also a pastor, author, and motivational speaker.
About Knoziz Recordings
Knoziz is a modern label for timeless music. Their artists work across a range of genres creating music that stirs the soul and moves the feet.
Facebook: https://www.facebook.com/knoziz
Twitter: https://twitter.com/knoziz
Instagram: https://www.instagram.com/knoziz/
Soundcloud: https://soundcloud.com/knoziz
Website: http://www.knoziz.com/