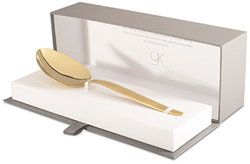 Scott Conant of New York's Scarpetta restaurant says, "It's the perfect-size spoon for everything—saucing, plating, scooping—it's kind of amazing."
New York, NY (PRWEB) September 04, 2014
To honor the landmark 20th anniversary of the Gray Kunz Sauce Spoon, noted professional culinary equipment purveyor JB Prince will be offering a special limited-run edition featuring a distinctive, corrosion and abrasion-resistant, electroplated gold PVD finish. It will be exclusively available in their midtown Manhattan showroom, and online at http://www.jbprince.com.
Many culinary tasks, such as mixing, require something larger than the standard sauce spoon. However, a typical kitchen spoon is too large for finesse jobs like saucing. Enter Chef Gray Kunz, nominated "Best American Chef" by the James Beard Foundation, and awarded four stars from the New York Times. Twenty years ago, during his reign as head chef at the legendary Lespinasse restaurant in New York City, he designed the now-iconic version that bears his name. Fast forward to the present day; the Gray Kunz spoon has become de rigueur in the kitchens of high-end restaurants all over the world. In 1994, they became available to the general public.
This invaluable piece of kitchen equipment has been written up in Food and Wine, Saveur, and Bon Appétit, and gotten rave reviews from star chefs. Scott Conant of New York's Scarpetta restaurant says, "It's the perfect-size spoon for everything—saucing, plating, scooping—it's kind of amazing."
Even very accomplished amateur chefs often don't think of using spoons for anything much beyond stirring gravy. But the professional chef knows that a good spoon is essential and uses a spoon for everything from basting to flipping meat to delicate operations like forming quenelles. Being able to do so much with one tool saves an enormous amount of time and effort in the kitchen; consequently, having a good spoon at one's disposal is crucial.
This special anniversary edition Kunz spoon is made from heavy-duty 18/10 stainless steel with a permanently electroplated gold PVD finish (it is dishwasher safe). It is 9" long, and holds 2.5 tablespoons (about 40 ml)—the ideal amount for saucing a main course. Its delicate silhouette gives it an air of elegance, and yet it's extremely durable. The bowl of the spoon is large enough that it can be used to flip steaks and seafood in the pan, with a gently tapered edge that allows greater precision in pouring.
In addition, the spoon's shorter, narrower handle balances its weight, so that it rests comfortably between the thumb and index finger. The handle has a brushed finish that makes it a pleasure to hold, and reduces smudges from handling.
The 20 Year Anniversary Edition of the Gray Kunz spoon combined with its specially-designed presentation box, will be available only as long as supplies last. Retail price is $39.00.