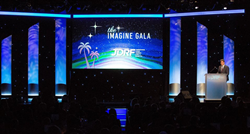 The Imagine Gala will also feature an intimate musical performance by Harry Connick, Jr. and is hosted by Frank Buckley, co-anchor of KTLA's Emmy Award-winning Morning News
BEVERLY HILLS, Calif. (PRWEB) May 03, 2019
For those 1.25 million Americans with diabetes, finding a cure is a drive and an attainable dream. And JDRF, the leading global organization funder of type 1 diabetes (T1D) research, does just that.
JDRF Los Angeles will hold its annual star-studded Imagine Gala on Saturday evening, May 4, 2019 at The Beverly Hilton Hotel, bringing hope and dreams to support research to cure, treat and prevent type 1 diabetes (T1D). The focus is to "imagine" a world diabetes free by finding a cure; until then, the advancements made by JDRF's research every day works to ease the burden of those living with the disease.
In addition to the delicious food, entertainment, silent and live auctions, the JDRF's signature call-to-action Fund A Cure is the cornerstone of the gala. Fund A Cure is a unique opportunity for 100% of donations received to go to ground-breaking research. Since its inception in 1970, JDRF has a significant history of supporting and funding virtually every major breakthrough in diabetes research and they are determined to find a cure. They are improving lives today and tomorrow by accelerating life-changing innovations.
JDRF's research has three objectives: cure the body's inability to control glucose, reversing insulin dependence; prevent the progression of the disease in those at risk or recently diagnosed; and treat people living with T1D with new drugs, therapies and devices that make it easier to stay healthy until the cure comes. JDRF has championed technology with that goal in mind, from the first engineered insulin 40 years ago to recent advancements like artificial pancreas systems and more. Through Fund A Cure, these innovative developments are fast becoming a reality worldwide. To make a Fund A Cure gift, please visit jdrflaimaginegala.com/#fund-a-cure. For details on the current research, visit jdrf.org/research.
The Imagine Gala will also feature an intimate musical performance by Harry Connick, Jr. and is hosted by Frank Buckley, co-anchor of KTLA's Emmy Award-winning Morning News. The evening will welcome guests Dana Walden, Austin Basis, Damon Dash and Derek Theler, among others. Over 600 entertainment executives, celebrities, top business executives, community and civic leaders, medical professionals and philanthropists will join together to support JDRF.
About JDRF: JDRF has led the search for a cure for T1D since our founding in 1970. In those days, people commonly called the disease "juvenile diabetes" because it was frequently diagnosed in, and strongly associated with, young children. Later, to emphasize exactly how we planned to end the disease, we added a word and became the Juvenile Diabetes Research Foundation. Today, we know an equal number of children and adults are diagnosed every day. Thanks to better therapies, which JDRF funding has been instrumental in developing and making available, people with T1D live longer and stay healthier while they await the cure.
The Los Angeles chapter is a local resource for JDRF information and events in the area. By connecting with the JDRF Los Angeles Chapter, people touched by or living with T1D are able to find support, community and ways to join the fight to end T1D. Several of the annual events hosted by the JDRF Los Angeles Chapter are the Imagine Gala, the JDRF One Walk, the Ride to Cure Diabetes and the Type 1 Nation Summit.
CONNECT WITH JDRF Los Angeles Chapter: 
Imagine Gala: http://www.jdrflaimaginegala.org
Website: https://www.jdrf.org/la/
Facebook: https://www.facebook.com/JDRFlosangeleschapter/
Twitter: https://twitter.com/jdrf_la?lang=en
Instagram: https://www.instagram.com/jdrflosangeles/