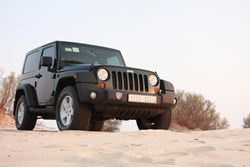 The Unlimited series of SUVs created by Jeep includes the 4.0, 3.8 and 4.7 series motors that have been in use for most of the past 20 years in the U.S. market
Lexington, Kentucky (PRWEB) November 25, 2013
The Unlimited series created by the Chrysler company for its Jeep vehicles usually features engines that are of a higher horsepower. Motors for these exclusive vehicle brands are now being sold as used condition units at the Got Engines company. All Jeep Unlimited engines up for sale are now packaged with a discount price tag at http://www.gotengines.com/blog/jeep-engines/jeep-engines.
This created sale pricing is expected to introduce a better sticker price for Jeep engines on a national basis. The V6 and V8 builds that are featured in the Unlimited lineup are added to the discount engines now offered. Buyers of engines seeking a replacement for Cherokee, Wrangler and Rubicon are expected to benefit immediately from these marketed sale prices.
A new set of suppliers are in use by the Got Engines acquisition team to help provide the announced price drops for Unlimited series engines. These partners are now combined to offer a better selection of engines for hard to find units apart from the reduced sale pricing that is created.
"The Unlimited series of SUVs created by Jeep includes the 4.0, 3.8 and 4.7 series motors that have been in use for most of the past 20 years in the U.S. market," a salesman at the GotEngines.com company confirmed.
The announced Got Engines sale pricing currently established for the Jeep series motors is in combination with other Chrysler produced engine inventory that exists for sale online. The Dodge Ram engine sale announced earlier this month is still in effect for each buyer. The 5.2, 3.9 and 4.7 motors apart from the Unlimited series continues to be matched with a lowered price.
"Our Dodge and Jeep brand inventory includes most of the engines that were shared during the production runs of these Chrysler brands to expand the types of motors that the average buyer has access to when gaining access to research our inventory," the salesman included.
The Got Engines company staff now supports the users of the company website through a connected online system to help generate quotes in price. All sale prices that are established and in place on the company website are now produced automatically using the company supported tools online.
About GotEngines.com
The GotEngines.com company retails used automotive engines for diesel and gasoline vehicles that are distributed or marketed inside the United States. The previously owned engines for sale that this company is featuring online are provided direct through auto agencies. The GotEngines.com company has constructed a quotation system meant for providing engine pricing and current warranty programs for each motor in stock. This online-only system is in addition to the customer service staff who are providing offline service through the created toll-free number.