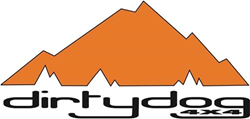 This partnership with 4WD will help our brand reach many new buyers that we have not previously been able to reach.
Columbiana, Ohio (PRWEB) November 23, 2016
Leading provider of aftermarket Jeep parts and accessories, 4WD, has begun carrying the full line of Dirtydog 4x4 products for Jeeps. Dirtydog 4x4 manufactures cargo nets, pet dividers, sunscreens, cargo liners and other accessories and their products appeal to members of the Jeep community that are animal owners.
The majority of Dirtydog 4x4 products are designed to keep passengers and pets in Jeeps safe when they are wheeling on or off-road. Enhancing the look and style of Jeeps, a number of their accessories also double as a great way to keep gear properly stored on or off the trail.
The concept originally came to founder and owner Michael Marcotte a decade ago, who was concerned about his young boxer pup riding in his Jeep out on the trail. He created a net and then realized that other wheeling pet owners would want to protect their dogs. Dirtydog evolved from selling their products on eBay to a sideline out of a garage and spare bedroom to an 8,000 sq. ft. manufacturing facility that they have now outgrown.
"We are very excited about our new partnership with 4WD," says Jamie Longmuir, Dirtydog's U.S. sales and marketing representative. "We are still a very young company that got our start in 2008 and we've have had good growth in the industry since. This partnership with 4WD will help our brand reach many new buyers that we have not previously been able to reach."
Dirtydog 4x4 makes many different Wrangler products and also has unique offerings for the Grand Cherokee, Cherokee and the new Jeep Renegade. Their pet and cargo divider made of heavyweight polypropylene webbing mounts behind the front seats of a Jeep to prevent pets from winding up in the front. Safari style sun screens for the front and rear feature various colors with one or two-piece construction to protect against UV rays and Dirtydog offers a variety of netting options for doors and rear cargo sections. Additionally, they have pet pads to ensure animals are comfortable in vehicles.
"4WD is excited to announce the addition of Dirtydog 4x4 products," says Sean Campbell, 4WD General Manager. "This unique line allows Jeep owners the ability to choose from color matched add-ons ranging from cargo nets to pet barriers, roll bar padding kits to seat covers. Jeep ownership is all about personalization and Dirtydog 4x4 is the perfect line to help make that happen for jeepers!"
About 4Wheel Drive Hardware:
4Wheel Drive Hardware is the leading industry provider of Jeep parts and accessories, with a passion for serving the needs of the off-road community and industry. Discover the latest products like Jeep Wrangler lift kits, tires and Bushwacker fender flares and connect with other Jeep owners around the globe. Visit them online at 4wd.com or call the toll-free order number 800-555-3353.
About Dirtydog 4x4:
Since 2008, Canadian-based manufacturer Dirtydog 4x4 has been making products to keep passengers and their pets safe in Jeeps. Their premium line of custom Jeep accessories includes netting, sunscreens, roll bar straps and handles that are designed to enhance the look and style of vehicles. Whether jeepers are out on the trail or on their way to the mall, Dirtydog's high quality products keep them and their pets safe and in style.