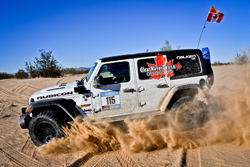 We have intentionally created an authentic proving ground for vehicles. The Rebelle is a test to show the world that not only are these participants more capable than they think, so are the vehicles in their driveways and on the showroom floors of dealers across the globe
RENO, Nev. (PRWEB) October 25, 2018
The 2018 Rebelle Rally presented by Hoehn Adventures came to an end on Saturday, October 20th, with a public awards ceremony followed by a celebratory evening gala held on the stunning San Diego Bay. The first women's off-road navigation rally raid in the U.S., also the longest competitive off-road rally in the lower 48 spanning 1600 miles over 8 days of competition, saw its largest number of teams to date and a record amount of international competitors and entries in the Crossover class. Teams competed from 17 states and 5 countries.
This year was a finish for the books. Two teams in the popular 4x4 class tied for first place. Team #115 Michelle Laframboise and Elise Racette (Canada), and Team #140, Emme Hall and Rebecca Donaghe (US). Both teams piloted Jeep Wrangler Rubicons, #140 in the JL, and finished with an impressive 1229 points at 91%. Following closely were defending champs Team #125, Kaleigh Hotchkiss and Teralin Petereit (US) who scored a total of 1226 points in their Jeep Wrangler TJ. Hall/Donaghe were third time competitors, and also won the sought-after Bone Stock award for highest-placing score in a completely unmodified 4x4 vehicle. The Bone Stock award is given directly to the manufacturer of the winning Bone Stock vehicle. Laframboise/Racette raked in their second International Cup title, receiving a donation to the charity of their choice. This was Laframboise's third Rebelle, and second time competing with Racette.
In the Crossover class, a class that has doubled in size since 2017, returning 2016 Team #202 Sandy Conner and Lisa Wolford drove the Porsche Cayenne to first place with 1055 points. Rookie Team #210 Alicia Farrar and Emily Winslow took home second place piloting their Subaru Crosstrek to 1005 points. Rounding out the top three in their Subaru Forester was another rookie team, #207 Nickie Kelly and Shannell McMillan, with a score of 965.
OEMs played a pivotal role this year with seven teams supported by manufacturers including Honda, Porsche, RAM, Jeep, and Nissan. Considered the ultimate proving ground for vehicles, the rally is not a race - but by no means does that make it any less exciting. OEMs recognized the rally's mass endurance appeal with the largest support to date from manufacturers, and participation amongst OEMs next year is anticipated to be even greater. "We have intentionally created an authentic proving ground for vehicles. The Rebelle is a test to show the world that not only are these participants more capable than they think, so are the vehicles in their driveways and on the showroom floors of dealers across the globe," noted rally founder Emily Miller.
With a pool of both experienced and novice competitors, the key characteristics that sets the Rebelle apart from other competitions are prohibition of GPS and cell phones with reliance solely on maps, compass, and roadbooks, along with a unique scoring system. Daily drivers with no or minimal modifications are the competition vehicles, making the rally accessible for a wide variety of participants.
Dates for the 2019 competition have been announced for October 10th-19th, and registration is currently open with an early registration incentive.
For a complete list of results, view here.
Images of the 2018 Rebelle Rally
2018 Highlight Video
About the Rebelle Rally
The Rebelle Rally is the first women's off-road navigational rally raid in the U.S. It is an event with a unique challenge and scoring system where precise navigation, not speed, is the ultimate goal. Participants trade in cell phones and GPS for old-school navigation in a competition with the elements of time, distance, headings, and hidden checkpoints. Armed with just maps, compasses, and roadbooks, up to 50 teams of two are pushed to their limits as they make their way across 2,500+ kilometers of Nevada and California's iconic terrain. Entering its fourth year, to date the Rebelle Rally has hosted competitors from 142 cities, 35 states/provinces, and 7 countries. The world-class event is the longest competitive off-road rally in the lower 48, and will take place October 10th – October 19th, 2019.