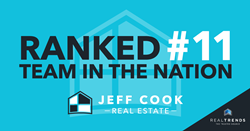 CHARLESTON, S.C. (PRWEB) July 29, 2020
Each year, The Wall Street Journal uses REAL Trends to release the rankings of the top real estate teams in the entire country. Jeff Cook Real Estate is proud to have been named as one of the top teams in the nation three years in a row. In 2018, Jeff Cook Real Estate was ranked #27 and has now jumped up to #11. As the leading real estate team in the Carolinas, Jeff Cook Real Estate has been ruling the real estate scene for over 17 years now.
So far this year, Jeff Cook Real Estate has served over 800 families throughout the Carolinas. With over 9 locations, Jeff Cook Real Estate has big plans to continue growing in the southeast region of the United States.
Jeff Cook Real Estate's leadership, employees, and agents plan to continue striving towards excellence in the real estate industry and will continue to successfully serve the community throughout the effects of the pandemic.
REAL Trends + Tom Ferry The Thousand, as a dvertised in The Wall Street Journal, is an annual, national awards ranking sponsored by REAL Trends - the Trusted Source - and Tom Ferry International coaching.
About Jeff Cook Real Estate:
Jeff Cook Real Estate focuses on leveraging each other's strengths to provide exceptional service while maximizing each team member's talents. In a company where entrepreneurship and out-of-the-box thinking are the driving factors of our success, we welcome industry leaders who challenge the norms and are looking to take their business to new heights. To learn more about joining Jeff Cook Real Estate visit JeffCookRealEstate.com