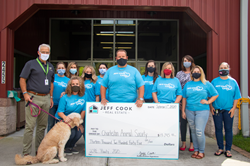 "Our partnership with the Charleston Animal Society is one of our most favorite events of the year." - Ciera James
CHARLESTON, S.C. (PRWEB) October 05, 2020
Jeff Cook Real Estate is proud to have rehomed 44 dogs and 56 cats to loving families in the Charleston area. Event Manager, Ciera James, plans for the animal adoption event months in advance and hopes to continue fostering a great relationship between Jeff Cook Real Estate and the local community.
"Our partnership with the Charleston Animal Society is one of our most favorite events of the year. Our operations office staff visited the shelter to take of tour of their facility and learned about how they care for neglected animals in the Charleston area. We put together enrichment toys for the animals to play with while waiting to be adopted and it felt great to give back." - Ciera James
On September 11th, Jeff Cook and the operations office staff visited the shelter and was able to meet a few of the families adopting. With over 9 locations across the Carolinas, Jeff Cook Real Estate makes an effort to find ways to give back in each market. So far in 2020, Jeff Cook Real Estate has served over 1,200 families sell or buy their homes.
About Jeff Cook Real Estate:
Jeff Cook Real Estate focuses on leveraging each other's strengths to provide exceptional service while maximizing each team member's talents. In a company where entrepreneurship and out-of-the-box thinking are the driving factors of our success, we welcome industry leaders who challenge the norms and are looking to take their business to new heights. To learn more about Jeff Cook Real Estate's services visit JeffCookRealEstate.com.