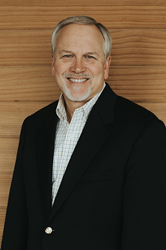 The (memory) that stands out the most is when one business owner, after having worked with me for a few weeks, said 'I feel like I have moved from the passenger seat into the driver's seat of my business.' I'm thrilled to be a part of those kinds of changes. - Jeff Roberts
OVERLAND PARK, Kan. (PRWEB) March 25, 2021
The Growth Coach, the international business and sales coaching franchise, is pleased to announce that Jeff Roberts, the owner of The Growth Coach of South West Kansas City, has been recognized with the company's Rookie of the Year Award. The award was presented at The Growth Coach's virtual awards ceremony on February 22.
"Jeff earned himself a spot in our Top 10 after less than a year in business, which is truly phenomenal. He focused on his already-strong networks – especially those with the Chambers of Commerce and his Church – which made a big difference when in-person networking was shut down. Jeff credits his success to leaning on the other coaches in the network for suggestions and motivation during an especially challenging rookie year. He started the year with a trip to the annual Growth Coach conference, one of the last in person events of 2020, and used the inspiration from this event to keep him going throughout the rest of the year. I am so proud of Jeff and am looking forward to seeing him to do awesome things in 2021," Growth Coach President Lisa Hudson said.
The Growth Coach is the largest provider of affordable group coaching workshops in the nation, but coaches also offer group and one-on-one coaching for sales professionals, managers, management teams, self-employed professionals and more through a wide variety of programs through three industry-leading series – their Foundational Series, Fundamental Series and Fast Forward Series. The Growth Coach's mission is to help business leaders build more successful business and more balanced lives. Roberts serves Johnson County, including Overland Park, Lenexa, Leawood, Shawnee and the surrounding areas, such as Lawrence.
"I am humbled and honored to be recognized by The Growth Coach as their Rookie of the Year. I was blessed to have engaged with several outstanding business owners and leaders and they all contributed in a significant way to my success. While I have several great experiences and memories of this past year one that stands out the most is when one business owner, after having worked with me for a few weeks, said 'I feel like I have moved from the passenger seat into the driver's seat of my business.' I'm thrilled to be a part of those kinds of changes," Jeff Roberts said.
Although the award recognized Roberts' first "rookie" year as a Growth Coach, Roberts has more than 30 years of experience managing financial and business operations for a leading insurance agency, where he achieved impressive revenue growth by establishing new offices in Arkansas and Oklahoma. He has been recognized for leading multimillion-dollar mergers and acquisitions that provided business development, drove market share and surpassed revenue targets. In addition to his extensive corporate background, Roberts has been a business owner and is an expert business coach with experience in strategic planning, organizational leadership, sales management and staff training.
As a Growth Coach, Roberts is certified in The Strategic Mindset coaching process, which adheres to the standards, practices and policies that the International Coaching Federation has set forth in their Code of Professional Standards and Ethics. The company's landmark Strategic Mindset Process is so effective that it comes with a money-back guarantee.
The Growth Coach, founded in Cincinnati, Ohio, sold its first franchise in 2003, but its leaders have a successful 20-year track record of helping business leaders find success and balance. Today the business and sales coaching franchise is in more than 100 markets worldwide. The Growth Coach was included in Bond's "Top 100 Franchises" and recognized in Entrepreneur Magazine's "Franchise 500" and "Best of the Best," in USA Today and has been featured on FOX, CBS and NBC.
For more information about how The Growth Coach of South West Kansas City can help you and your business, call 913-329-5012, email JRoberts@TheGrowthCoach.com or visit http://www.TheGrowthCoachSWKC.com.