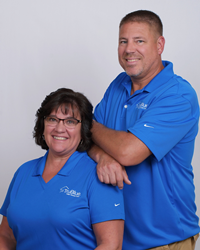 I look forward to helping those endeavoring to age-in-place in the Waukesha and Walworth County areas to make the necessary modifications and preparations they will need to enable them to live safe and secure in their own homes for as long they wish. - Jeff Vandegenachte
ELKHORN, Wis. (PRWEB) November 18, 2020
Jeff Vandegenachte, co-owner of TruBlue House Care in Southern Wisconsin, is now one of a select group of professionals nationwide to earn the Senior Home Safety Specialist™ designation, identifying him as having obtained the knowledge necessary to help educate older adults and family members on the serious issues of home safety, fall prevention, personal safety and financial exploitation.
This comprehensive course offers the only designation of its kind to individuals in the senior services industry. Senior Home Safety Specialist graduates include a myriad of providers involved in the care, comfort, safety and security of older adults including occupational/physical therapists, home care providers, aging-in-place professionals, handyman services, contractors, remodelers, home inspectors, senior living staff, EMS professionals, care managers, caregivers and many others committed to assisting seniors to stay safe in the homes they love.
"Susan and I are into our third year with TruBlue House Care. We enjoy taking care of families in need. We have great respect for the elderly and it is gratifying when we are able to help them stay safe in their homes. I look forward to helping those endeavoring to age-in-place in the Waukesha and Walworth County areas to make the necessary modifications and preparations they will need to enable them to live safe and secure in their own homes for as long they wish," Jeff said.
Approximately a third of adults age 65 years or older fall in their home each year, resulting in injury, long-term disability and premature loss of independence. By 2020, the Centers for Disease Control and Prevention estimated the cost related to these kinds of injuries to be over $60 Billion a year. In an effort to help reduce and prevent falls and their associated costs, Age Safe America developed this program as a way to help professionals educate older adults and families to make preparations now to ensure ongoing freedom and independence for all.
Age Safe America is a national membership, training and advocacy organization dedicated to meet the growing need for Home Safety Assessments and Aging-in-Place Home Modifications. The company is directed by nationally recognized experts in fall prevention, home safety, aging-in-place, universal design, home modifications, environmental assessment, and marketing to seniors and aging boomers. They provide training, consulting, certifications, product reviews, tools, resources and support to businesses and organizations providing products and services to seniors and their adult children.
TruBlue is a full-service company that offers both bundled and unbundled services. Clients looking for dependable, high-quality, individual services can hire TruBlue for handyman repairs, cleaning services, emergency repairs, seasonal services and minor home renovations. For clients looking for total house care solutions – especially seniors and busy families who want the comfort and convenience of owning a home without worrying about the maintenance hassles – TruBlue offers a House Care Plus monthly maintenance program. TruBlue also works with homeowners, realtors and rental property owners who need to get homes move-in ready quickly and keep them maintained as well as business clients. TruBlue of Southern Wisconsin serves Big Bend, Burlington, Delevan, Dousman, Eagle, East Troy, Elkhorn, Fontana, Genesee Depot, Lake Geneva, Mukwonago, Muskego, North Prairie, Wales, Waterford, Waukesha and Williams Bay
For more information about TruBlue House Care, call (262)379-2024, email SouthernWI@TruBlueHouseCare.com or visit http://www.TruBlueHouseCare.com/Southern-Wisconsin.