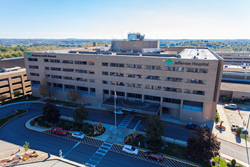 Our experience tells us that frequent emergency department visits often have as much to do with challenges faced in a patient's social environment as they do with underlying medical issues.
JEFFERSON HILLS, Pa. (PRWEB) September 12, 2018
The Jefferson Regional Foundation today awarded the single-largest grant in its history to Allegheny Health Network's (AHN) Jefferson Hospital. The $1 million, 4-year grant will be used to establish the "Front Door Initiative for Social Emergency Medicine" at Jefferson – a comprehensive effort to better understand and address the social determinants of health among patients who visit the hospital's emergency department.
"Our experience tells us that frequent emergency department visits often have as much to do with challenges faced in a patient's social environment as they do with underlying medical issues," said Cynthia Hundorfean, AHN President and CEO. "At AHN, we believe in a holistic approach to improving the health of our patients and communities. This incredibly generous grant from the Jefferson Regional Foundation will better enable us to fulfill that promise for the residents of Jefferson Hills and the surrounding area."
Louise Urban, the President and CEO of Jefferson Hospital, said the initiative's name is appropriate given the important role emergency departments play at community hospitals.
"The emergency department often serves as the front door to the hospital; it is the initial experience many patients may have with us," Urban explained. "But serving our patients can, and should, mean more than just treating their acute health care needs and sending them home. We want to better understand what may be influencing their health and what further steps can be taken to improve it. Are they exiting our doors properly positioned to get better, to stay well? This program will help us to more clearly see the whole picture so that we can direct patients to the resources that may help prevent the need for an emergency room visit in the future."
Formed five years ago, the Jefferson Regional Foundation focuses its grantmaking on three priorities: increasing health access and prevention, improving child and family outcomes, and strengthening vulnerable populations and communities in the South Hills and lower Mon Valley. The foundation has now awarded nearly $9 million to 73 organizations for local grants that support its mission.
"Through the work we have done with dozens of organizations throughout the South Hills and lower Mon Valley, we continue to learn about the challenges faced by many in our area," said Mary Phan-Gruber, Executive Director, Jefferson Regional Foundation. "Those include many potential social determinants of health, such as mental health, addiction, homelessness, domestic violence, food insecurity, limited access to transportation or language interpretation, caregiving challenges, and a host of other issues. People facing these problems often end up at the emergency department.
"Jefferson's emergency department sees more than 50,000 patients a year," she added. "The Front Door Initiative will help give the emergency department staff the tools they need to better understand why many of those patients are there. And, it will help the hospital work with the Foundation to strengthen partnerships with those key community resources that can help to coordinate the proper support outside of the hospital. "
In particular, Jefferson Hospital will apply the grant toward: extensive assessment of community needs related to its emergency services; identification of model practices for social emergency medicine; working with community partners on the development of a Front Door vision and plan; implementation of a strong data system; educational interventions for staff; development of an integrated support network and ensuring patients are properly connected to it.
The launch of the program comes as Jefferson Hospital is in the midst of a $21 million emergency department expansion and renovation project. Expected to be completed in 2019, the project includes a complete renovation and significant expansion of the facility that will increase by a third the number of treatment and observation beds.
Richard Sullivan, MD, Director of Jefferson's Department of Emergency Medicine, said the timing of the Front Door Initiative as the hospital improves its emergency department is no coincidence.
"The ongoing construction project will enhance our ability to provide high-quality emergency care to the thousands of people who come through our doors every year," said Dr. Sullivan. "And the Front Door Initiative will help us better identify and intervene on the social determinants of health that, unfortunately, may otherwise be overlooked in this population. The two go together very well."
AHN's Office of Development also expressed its gratitude for the Foundation's continued support of AHN.
"We are grateful to the Jefferson Regional Foundation for their philanthropic investment in Jefferson Hospital and AHN," said Allie Quick, Chief Philanthropy Officer, AHN. "They are true partners, and through this collaboration, they are helping AHN to once again reach outside hospital walls to interact with residents in the region on a deeper level. It is an honor to work alongside the Foundation to further our mission of improving health and promoting wellness in our communities, one person at a time."
The Front Door Initiative is not the only program in place at Jefferson Hospital supported by the Foundation aimed at addressing the social determinants of health. The Foundation already is funding a project at Jefferson Hospital through the Greater Pittsburgh Community Food Bank to pilot the distribution of medically tailored food boxes for food insecure patients.
AHN and Highmark have other programs in place across the Network to address the social determinants of health, including the AHN Healthy Food Center, which opened its doors on the campus of West Penn Hospital earlier this year as a first-of-its-kind-in-the-region "food pharmacy." Here, patients who lack access to food can receive nutritious food items, education on disease-specific diets, and additional services for other social challenges they might face.
Additionally, late last year, Highmark was among a handful of local organizations that matched a $250,000 award from the BUILD Health Challenge, a national program that leverages multiple community partnerships in order to improve public health. Allegheny General Hospital (AGH), Highmark, and other groups are working together to implement innovative solutions to the health challenges faced by residents of Pittsburgh's Northside community.
###
About the Jefferson Regional Foundation
The Jefferson Regional Foundation was funded with $75 million for community grantmaking as part of the agreement with Highmark Inc. when Jefferson Hospital affiliated with Allegheny Health Network in 2013. Having funded nearly $9 million in grants to date, the Foundation focuses on three priorities: increasing health access and prevention, improving child and family outcomes, and strengthening vulnerable populations and communities. Grantmaking is targeted to the South Hills and lower Mon Valley. Recognizing a commitment to convening and sharing community information, the Foundation also sponsors an annual daylong learning event called the Jefferson Forum and hosts the Jefferson Community Collaborative, a membership network of 82 community-serving organizations which operates through quarterly meetings and in ongoing action teams to serve as an incubator for ideas and practices, improve the capacity of its agencies, and facilitate group action for the Jefferson area. The Foundation and the Jefferson Community Collaborative have partnered with Jefferson Hospital and AHN to publish the Jefferson Community Directory, a 140-page resource guide for the South Hills and lower Mon Valley communities now in its 3rd edition and distributed to key stakeholders throughout the area to help connect residents to important resources. Additionally, during the week of October 15-19, 2018, the Foundation will partner with Jefferson Hospital and dozens of other community leaders and organizations for Around the Table South to host 100 mealtime conversations across the community to build connections, share ideas and inspire action. For more information about grantmaking guidelines, the Jefferson Community Collaborative, and other activities of the Foundation, visit http://www.jeffersonrf.org or contact the Foundation at 412.267.6770.
About Jefferson Hospital
Jefferson Hospital, a part of Allegheny Health Network (AHN), is a full-service inpatient facility located in Jefferson Hills that serves the South Hills of Pittsburgh, the lower Mon Valley, and surrounding communities. Featuring a medical staff of nearly 400 physicians covering more than 40 health care specialties, the hospital provides comprehensive inpatient and outpatient surgical services, and emergency care. It features a Cardiovascular Institute, Cancer Institute, Orthopaedic Institute, Bariatric & Metabolic Institute, Women and Infants Center, Women's Diagnostic Center, Sleep Disorders Center, and Wound Care Center among other services. Jefferson Hospital also includes the Bethel Park Health + Wellness Pavilion as well as several outpatient, primary care, and therapy sites across the South Hills and neighboring areas.
About the Allegheny Health Network
Allegheny Health Network (AHN.org), a Highmark Health company, is an integrated healthcare delivery system serving the greater Western Pennsylvania region. The Network is composed of eight hospitals, including Allegheny General Hospital, its flagship academic medical center in Pittsburgh, Allegheny Valley Hospital in Natrona Heights, Canonsburg Hospital in Canonsburg, Forbes Hospital in Monroeville, Jefferson Hospital in Jefferson Hills, Saint Vincent Hospital in Erie, West Penn Hospital in Pittsburgh and Westfield Memorial Hospital in Westfield, NY. The Network provides patients with access to a complete spectrum of advanced medical services, including nationally recognized programs for primary and emergency care, cardiovascular disease, cancer care, orthopedic surgery, neurology and neurosurgery, women's health, diabetes and more. It also is home to a comprehensive research institute; Health + Wellness Pavilions; an employed physician organization, home and community based health services and a group purchasing organization. The Network employs approximately 19,000 people, has more than 2,800 physicians on its medical staff and serves as a clinical campus for Drexel University College of Medicine, Temple University School of Medicine, and the Lake Erie College of Osteopathic Medicine.