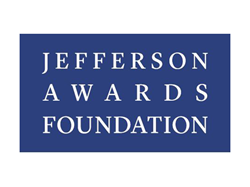 Every year the Jefferson Awards Foundation honors the top social entrepreneurs and philanthropists in the nation.
New York, NY (PRWEB) March 04, 2015
The Jefferson Awards Foundation, America's most prestigious and longest standing organization dedicated to activating and celebrating public service, today honors America's most outstanding philanthropic achievements in 2015 at its annual gala in New York City. The gala will take place at Gotham Hall, honoring award recipients for their dedication and accomplishments in helping those less fortunate.
"Every year the Jefferson Awards Foundation honors the top social entrepreneurs and philanthropists in the nation with this gala," said Hillary Schafer, Executive Director of The Jefferson Awards. "It is an honor to have so many individuals from all walks of life dedicated to public service attending our event to be recognized for their continued achievements."
Adam Braun will receive the 2015 Greatest Public Service Benefiting the Disadvantaged award for his work building schools and training teachers through his organization Pencils of Promise. With the help of volunteers and local villages, Braun has built more than 250 schools internationally. Past honorees of this award include Barbara Bush, Bill and Melinda Gates and Jesse Jackson.
Buffalo Bills running back Fred Jackson will receive the Jefferson Award for Greatest Public Service by an Athlete. Jackson spends much of his time participating in community service, and is an advocate for the Food Bank of WNY. The NFL running back is also a spokesman for United Way, the Billieve campaign for breast-cancer awareness and NFL Play 60 for youth exercise. Jackson will join the ranks of Yankee's Mariano Rivera and the Eagle's James Thrash who received this award in 2014.
Ivan Hageman, Founder and Head of The East Harlem School, will be presented with the award for Greatest Public Service by an Entrepreneur. His independent middle school recruits students from low-income families, and supports them physically and academically with vegetarian meals, drama classes and athletics including lacrosse, soccer and wrestling teams. Students from The East Harlem School are admitted into top high schools upon completion of eighth grade. Year Up founder Gerald Chertavian and Do Something's Andrew Shue have both been honored with this award in past years.
The recipients of the award for Outstanding National or Global Service by a Young American 25 Years or Under are Warm Winters Founders Corinne Hindes and Katrine Kirsebom. In 2011, at the age of 11, these two teens created Warm Winters to donate winter clothes to the homeless community. Working with ski resorts for donations, the organization has grown to help more than 2,500 people.
In addition to national award recipients, the winning three 2015 LEAD360 finalists will be announced as they begin their nine-month journey and compete in creating maximum impact on a national scale with their submitted service project ideas.
About the Jefferson Awards
The Jefferson Awards Foundation is the country's longest standing and most prestigious organization dedicated to activating and celebrating public service. Through our programs we train and empower individuals to serve and lead in their communities, amplifying their impact through our vast network of media partners, mentors and volunteers. To learn more about the Jefferson Awards Foundation, visit: JeffersonAwards.org or engage with our community on Instagram, Twitter and Facebook.
###