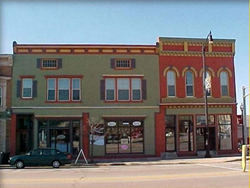 Jefferson, WI (PRWEB) November 24, 2015
Smack dab between Milwaukee and Madison, Wisconsin is the town of Jefferson, which includes a historic building within its downtown that is currently listed on the market and will be auctioned by the Green Bay-based auction firm Micoley.com on December 2.
The property located at 201 S Main St Jefferson, WI [zip: 53549-1633] is perfect for those looking to add to their commercial portfolio: in addition to its prime location just steps away from Rotary Park, the building offers 2 commercial spaces at street level and 8 unique apartments above, making it an attractive combination property that allows for multiple types of tenants.
The 13,000 square foot building has been a fixture of Jefferson since its opening in 1890. Some apartments include exposed brick, skylights and tin ceilings, which add to the old-timey character and charm. Plenty of off-street parking is included.
Micoley.com founder & CEO Wade T. Micoley is happy to assist with finding a buyer for a property so close to the company's headquarters: "This is a tremendously exciting commercial property, and we are thrilled to present it to potential investors who would like to add a mixed residential/commercial building to their portfolio."
"It's located less than an hour from both Milwaukee and Madison, so this property is situated right in the thick of things but it's also part of a small town. Visiting the building in person will give buyers the chance to see that even though it's been recently updated, it's still magnificently historic. It's just a great investment opportunity."
The highly motivated sellers of this property have indicated that they plan to entertain early bids and offers. Buyers are most likely already researching this property, and coming to decisions about whether to make a purchase, so potential buyers are advised to act fast.
Interested parties should visit micoley.com to find more photos and details about the property, or visit in person and perform an inspection on site, which is highly recommended. (866) 371-3619 is Micoley.com's information line. Additionally, Micoley.com features a live chat service through which questions can be answered.
About Micoley.com:
Green Bay, Wisconsin-based Micoley.com is a real estate marketing firm specializing in project focused auctions and sales events of bank-owned and traditionally listed Real Estate throughout the United States. The Micoley.com approach to Real Estate marketing tailors each auction plan to the client's individual needs. The site is constantly being updated for the benefit of buyers, as large-scale auction events are held every two months, and new properties are added daily.