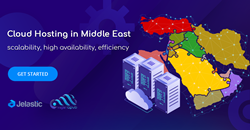 Partnership with WafaiCloud opens new horizons for bringing flexibility and efficiency of modern cloud services to the UAE and Middle East markets.
PALO ALTO, Calif. (PRWEB) July 02, 2019
Jelastic, Inc., software company that provides a Multi-Cloud DevOps PaaS, announced a strategic partnership with WafaiCloud, a company that is specialized in powerful and reliable web hosting and telecom services. As a result of this collaboration, Saudi Arabian developers, startups and companies with IT departments will benefit moving their projects from traditional hosting to the cloud in order not to compromise on modern DevOps functionality, scaling or flexibility.
"Partnership with WafaiCloud opens new horizons for bringing flexibility and efficiency of modern cloud services to the UAE and Middle East markets," says Ruslan Synytsky, Jelastic CEO.
WafaiCloud, a middle east high-end Service Provider with extended hands-on experience in the fields of hosting, telecom, turnkey service solution & development, started cooperation with Jelastic in order to enrich their service portfolio and enter the PaaS business, by offering a scalable, flexible and highly-available application hosting for developers.
Jelastic stands on a high wave of PaaS market, providing intuitive and friendly UI, rich marketplace with one-click deployment of pre-packaged applications, add-ons and clustered solutions, application migration with zero code change, automated scaling and other cloud benefits. Besides, Jelastic platform helps to move legacy applications from traditional hosting to container-based cloud native workloads, allowing developers to accelerate application development processes, improve scalability and efficiency of their projects.
"Our partnership with Jelastic is exciting as it helps us differentiate in a competitive market. During an extended private beta with our existing customers, we found that Jelastic solves the current pain points of deployment, capacity planning and ongoing management. We look forward to a long and successful relationship with Jelastic,"- said GM of WafaiCloud, Mazen Aldari.
Jelastic and WafaiCloud will collaborate to ensure that their customers can gain faster deployment, automated management, and easy scaling, having routine configuration tasks covered by default. Therefore, developers will get a possibility to concentrate on coding rather than spending hours setting up a server to get it alive.
WafaiCloud PaaS is initially available through their highly available data centers in Jeddah, Riyadh & Khobar and plan to open even more regions within Jelastic Multi-Cloud soon. Customers can experience scalable cloud hosting with WafaiCloud for free during a 14 day trial period.
About Jelastic
Jelastic is a Multi-Cloud DevOps PaaS for ISVs, telcos, service providers and enterprises needing to speed up development, reduce cost of IT infrastructure, improve uptime and security. The platform automates creation, scaling, clustering and security updates of cloud-native and traditional applications. Jelastic has a unique pay-as-you-use pricing model and is available as public, private, hybrid and multi-cloud in about 60 data centers worldwide. The platform supports Java, PHP, Ruby, Node.js, Python, Go environments, as well as Docker and Kubernetes clusters. More info at https://jelastic.com
About WafaiCloud
WafaiCloud is a middle east company based in Saudi Arabia, Bahrain, Oman on UAE the legal name of the Company is Al WafaiCloud International Company LLC. It is pioneer in the Telecom & Information Technology sector in Middle East which launched its business on 21th, August, 1999 and became the fastest growing companies in the Middle East and its brand has become one of the strongest brands in the world of Telecom sector.
WafaiCloud continued its leadership strategy to stay an inspiring source in redefining concepts and sustain the competition change by being one of the major pioneer companies locally, regionally, and internationally. Its leadership sustainability transformed the social responsibility concepts in the middle east dramatically.
WafaiCloud provides integrated services for three main sectors; individuals, business, and carriers; where it established one of the largest wireless network coverage in the Kingdom and the middle east , and now we are aiming the same in Cloud industry, in addition to WafaiCloud Group owns three data centers in the Saudi Arabia, one in Bahrain and we are covering other middle east regions.