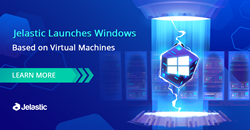 For quite some time we were tracking a high demand in Windows functionality among our growing customer base. Extending the product line with this offering was vital considering Jelastic freedom of choice principles. Now our hosting partners will have all battle cards to conquer the cloud market
PALO ALTO, Calif. (PRWEB) December 16, 2020
Jelastic, multi-cloud platform provider, today announced beta launch of Windows cloud hosting running inside virtual machines natively implemented within the PaaS.
Jelastic cloud platform enables service providers to offer traditional virtual machines with Windows workloads in the same topology side by side with Linux containers. The user interface has been updated to seamlessly integrate this additional functionality and make it available to customers in just a few clicks. Application configurations and management can be performed via the built-in web or a standard remote desktop client using RDP. Service providers can easily monitor and manage all servers from the Jelastic Cluster Admin Panel.
"For quite some time we were tracking a high demand in Windows functionality among our growing customer base. Extending the product line with this offering was vital considering Jelastic freedom of choice principles. Now our hosting partners will have all battle cards to conquer the cloud market," said Ruslan Synytsky, Jelastic CEO and co-founder.
Both newly launched VMs and previously available containers can be run within the same host nodes on bare metal. This approach provides high density, improves hardware utilization and reduces management complexity by eliminating the need to use any additional VM orchestration platform on a separate infrastructure. The key component of such implementation is Virtuozzo Hybrid Server used underneath the PaaS layer.
"The Virtuozzo and Jelastic partnership makes it possible for hosting providers to offer unified VM and container-based infrastructure management within a turnkey cloud platform. Our virtualization technology, in combination with the PaaS solution, ensures effective resource allocation and simplified orchestration of diverse workloads," said Alex Fine, Virtuozzo CEO.
Hosting providers can bring their own Windows license and define custom tariffs. The cost for the VM resources and licenses for end users are based on the pay-as-you-go pricing model.
"Our large customer base is looking forward to Windows support and VMs availability inside Jelastic PaaS with its superior user interface that makes their cloud experience smooth and easy," said Theodosis Theodosiou, Primetel CCO.
"We have already thoroughly tested the newly launched Windows functionality and a new approach of running virtual machines inside Jelastic PaaS, so soon this turnkey solution will be publicly open for all our customers," said Theodoros Filippidis, Scaleforce CEO.
Contact Jelastic now to learn more and start offering Windows cloud hosting from a turnkey PaaS running on VMs and containers.
About Jelastic
Jelastic is a Multi-Cloud Platform-as-a-Service that helps customers to focus on their business growth instead of spending resources on IT infrastructure configuration and management. The platform is designed for ISVs, digital agencies, e-commerce projects and service providers to accelerate and simplify application deployment, optimize cloud spends, improve uptime and enhance security of services. Jelastic PaaS is available as a public, private, hybrid and multi-cloud across a network of independent cloud hosting providers and global hyperscalers. Jelastic stands for freedom of choice, data sovereignty and privacy, as well as cost efficiency in digitalization and cloud hosting. Learn more at https://jelastic.com
About Virtuozzo
The software-defined Hyper-converged platform, as well as Virtuozzo's virtualization and storage system for cloud services, help service providers to increase business profitability and ensure the resources availability, reducing operating costs. Corporate customers achieve systems flexibility and high performance reducing the total cost of infrastructure's ownership. Learn more at http://www.virtuozzo.com