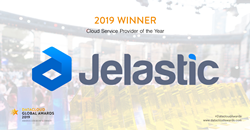 Jelastic team is pleased to be recognized as industry leader and cloud innovator. It is especially valued to be awarded during Datacloud event that gathers key market players. We keep advancing our product to influence the cloud world and change the rules for making hosting more efficient & flexible
PALO ALTO, Calif. (PRWEB) June 11, 2019
Jelastic Multi-Cloud PaaS has been honored with the title "Cloud Service Provider of the Year" at the ceremony of Datacloud Global Awards 2019 in Monte Carlo, Monaco. Last week BroadGroup, the information media technology and professional services company, officially announced the winners in 16 categories.
This prestigious nomination was held for the 12th time with the judges comprised of professionals from the industry in order to recognise the products and companies that demonstrate cloud innovation, data centre and service excellence. Datacloud event is performing a critical role as an international networking for making deals and new connections for the further partnership.
"Jelastic team is pleased to be recognized as an industry leader and cloud innovator. It is especially valued to be awarded during a highly regarded Datacloud annual meeting that gathers key market players. We keep advancing our product in order to influence the cloud world and change the rules for making hosting services more efficient and flexible," said Ruslan Synytsky, Jelastic CEO and co-founder.
Below are highlighted some of the core reasons why Jelastic PaaS became an award winner and named Cloud Service Provider of the Year.
Jelastic is using a unique business model for the cloud platform - it is delivered to customers through independent and distributed network of cloud hosting providers but not on own hardware or data centers. Each partner offers the same UI and API enabling customers to easily mix and match service providers according to the project needs. As a result, Jelastic PaaS is already available on about 60 data centers worldwide and the number of available locations is constantly growing. Also, for large-scale projects there is a possibility to install a dedicated platform on top of popular clouds such as AWS, Google, Azure, Digital Ocean and others, consolidating and managing multiple regions within a single self-service portal.
Jelastic is advocating the next generation of cloud computing billing model based on the real usage and not on the allocated limits. The company became a pioneer of "pay-as-you-use" (or so-called "pay-per-use") pricing model in cloud hosting market. With granular automatic vertical scaling inside containers, users pay only for actually consumed resources forgetting right-sizing problem and having no need to reserve capacity beforehand or overpay for the limits.
In addition, Jelastic prototyped and sponsored development of a patch to OpenJDK which improves elasticity and enables automated vertical scaling of Java applications. The offered solution is already implemented in the OpenJDK 12. As a result, the company was awarded with Duke's Choice Award 2018 for technological advancement in Java.
Jelastic is one of the first projects that offered production ready containers based platform even before Docker containers appeared. It supported system containers for stateful applications from the first days, and extended the product line with application containers when noticed the growing demand in cloud-native microservices. Any application can be deployed with zero code change, as well as further migrated across clouds in a live mode without downtime using one more innovative technology from Jelastic. This opens up a new level of freedom and drastically reduces the risk of lock-in saving human efforts and costs spent on migration process.
Being a turnkey cost effective solution with worldwide presence, Jelastic Multi-Cloud PaaS provides excellence in cloud services with real global impact. Interested to become Jelastic partner? Send the request. Want to try this cloud product for free? Register at one of the service providers.
About Jelastic
Jelastic is a Multi-Cloud DevOps PaaS for ISVs, telcos, service providers and enterprises needing to speed up development, reduce cost of IT infrastructure, improve uptime and security. The platform automates creation, scaling, clustering and security updates of cloud-native and traditional applications. Jelastic offers next generation pay-per-use pricing model and is available as public, private, hybrid and multi-cloud in about 60 data centers worldwide. The platform supports Java, PHP, Ruby, Node.js, Python, .NET, Go environments, as well as Docker and Kubernetes clusters.