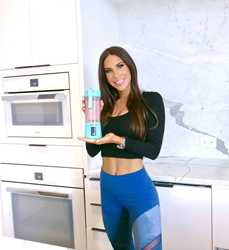 I am amazed it has taken so long for companies to realize that influencers are not salespeople. They are super-charged brand zealots who legitimately love what they endorse and want their followers to enjoy their lifestyle
NEW YORK (PRWEB) April 30, 2019
BlendJet partnered with Jen Selter, one of Forbes' top 10 fitness influencers, to demonstrate the value of the product to her 33 million followers globally. As a fan of the product herself, Selter reached out to BlendJet, knowing that it was something her followers would love. She is now featured on BlendJet's homepage and in their viral video ad campaigns, which have over 100 million video views on Facebook and Instagram, and get millions more daily.
Jen Selter takes her BlendJet with her around the world, and posts about it regularly. "I was always traveling and never had time to make my own shakes and smoothies. I was spending hundreds of dollars a month buying them. With my BlendJet, now I make my own smoothies and protein shakes everywhere I go. BlendJet has become an essential and incredible part of my lifestyle and fitness routine."
BlendJet is a favorite among millennials and Gen Xers, who are searching for a more convenient and less expensive way to eat healthy while living an on-the-go lifestyle. BlendJet is blowing away their 2019 projections and is selling them as fast as they can make them. Ryan Pamplin, BlendJet's CEO, is moved by the success. "BlendJet isn't just an impulse purchase that sits on a shelf, it's something that becomes part of our customers' daily lives. We have the privilege of hearing customer stories every day that move us. This is the most fulfilling thing I've ever been a part of. Most of our customers find us through our videos, many of which feature Jen, and then buy directly on BlendJet.com. What's amazing is how much they post on social media and come back to share their amazing stories through photo reviews on our website."
A trendspotting service recently highlighted BlendJet's success and the "similarities with Instantpot's billion-dollar-plus revenue business."
The partnership between social media star Jen Selter and BlendJet has redefined what it looks like to successfully utilize an influencer in marketing, leading to an incredible return on investment for BlendJet. Selter's agent, Evan Morgenstein of PMG Sports, has seen the industry follow BlendJet's lead. "I am amazed it has taken so long for companies to realize that influencers are not salespeople. They are super-charged brand zealots who legitimately love what they endorse and want their followers to enjoy their lifestyle. Creativity in influencer marketing is so rare. I commend Ryan and co-founder John Zheng for creating a beloved product, and empowering the perfect influencer to help fuel their growth."
Evan Morgenstein
Premier Management Group
evan(at)pmgsports.com
(919) 332-0584