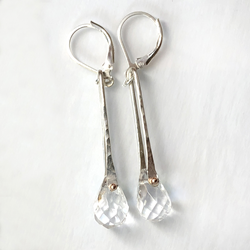 These are going-out earrings, designed for your dressiest looks!
CHICAGO (PRWEB) January 17, 2019
Northfield, Illinois-based Jen Volkodav Jewelry Design (http://www.jenvolkodavjewelrydesign.com) is pleased to announce its recent participation in GBK's 2019 Golden Globes Luxury Celebrity Gift Lounge, in association with The Artisan Group®.
The Gift Lounge took place January 4-5, 2019 at the L'Hermitage Hotel in Beverly Hills, California. Attendees included Viola Davis, Angela Bassett, Danny Huston, director Joe Russo, Golden Globe nominee Spike Lee, Matilda Szydagis (The Marvelous Mrs. Maisel), Danielle Macdonald, Luke Benward and Odeya Rush of Netflix's breakout hit Dumplin', and many others.
A pair of Jen's Clear Crystal Quartz Drop Earrings were included in The Artisan Group's sought after celebrity/VIP swag bags. The exclusive handcrafted design features elongated 100 percent natural quartz crystals set in solid sterling silver with a hint of rose gold. In a pre-event interview, Jen noted her design was inspired by the Golden Globe ceremony itself, echoing the event's elegant, seductive vibe.
"These earrings are perfectly sparkly, sleek and sexy," said Jen. "They're going out earrings, designed for your dressiest looks." The earrings are available as a custom order here.
Since the Golden Globes event, actress Shanola Hampton (Shameless) has worn her Quartz Drops at photo shoots and an online interview, and Instagrammed, "Love the Earrings!"
At The Artisan Group exhibit, Jen showcased several of her signature, museum-quality tourmaline designs, including a shocking magenta and orange bicolor signature necklace and a vibrant orange and pink pendant with matching earrings. Also on display was a men's wide sterling band ring.
Regarding her company's participation in the GBK 2018 Oscars Luxury Gift Lounge, Jen said, "As a follow-up to the 2018 Oscars, where my amethyst designs received shout-outs from Leslie Zemeckis and Carrie Bernans, I was thrilled to have been selected again to partner with The Artisan Group for a GBK Luxury Celebrity Gift Lounge. I hope everyone who received my earrings in their Artisan Group gift bag will enjoy the luxury of wearing a piece of unique, handcrafted jewelry."
For Jen, a passion for designing and creating jewelry runs in the family. Her grandfather was a jeweler and she has carried on the tradition, starting Jen Volkodav Jewelry Design in 2008, after a successful career as a graphic designer, illustrator, and photographer.
Jen Volkodav jewelry designs are available at http://www.jenvolkodavjewelrydesign.com and select juried art shows in the Chicago area. Jen is a member of by-invitation-only The Artisan Group.
Contact Jen Volkodav by email using the contact button at the top right of this press release. Follow Jen Volkodav Jewelry Design on Facebook (@JenVolkodavDesigns), Twitter (@JVolkodavDesign), Instagram (@jenvolkodavdesigns), and Pinterest (@JenVolkodavdesigns).
For more information about The Artisan Group, visit theartisangroup.org.
ABOUT JEN VOLKODAV JEWELRY DESIGN
Jen Volkodav, the founder/designer of Jen Volkodav Jewelry Design is a creative, and an artist, and has been since she was born. Being a jewelry designer and graphic designer, she is constantly looking at the world around her and redesigning it. She looks at friends and celebrities to see how they adorn themselves, and wonders what she can create to fit their unique style.
Jen's muse is nature, and she finds inspiration in the colors and uniqueness of individual gemstones and minerals. She is passionate about creating and appreciates her customers for making her love for creating and designing jewelry an everyday reality.