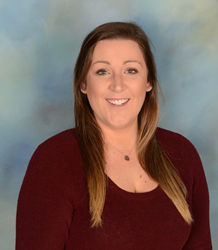 "Jenna's enthusiasm for the industry and working knowledge of agriculture and the rural communities that we serve are an asset to her role in communicating the FCV vision and story to customer-owners. She is a great fit for FCV and our membership." - Laura Staley, Director of Marketing
ROANOKE, Va. (PRWEB) July 09, 2019
In February, Farm Credit of the Virginias (FCV) announced that Jenna Sudol would join the Marketing team part-time. Sudol assumed the Marketing & Digital Media Coordinator position out of the Roanoke branch. The association welcomed Sudol to the role full-time in June following the completion of her graduate studies. Sudol joins the FCV team with enthusiasm and industry experience.
Sudol grew up on a small horse farm in Hanover County, Virginia. She was an active member of her county 4-H club and competed in various contests at the local and state level. She was awarded the Adranetta E. Weimer 4-H Communication Scholarship for her achievement in public speaking competitions.
Sudol graduated from Virginia Tech in 2017 where she studied Public Relations and Animal Science. While at Virginia Tech, Sudol was a member of Sigma Alpha, Block & Bridle, the Equestrian Club, and the Public Relations Student Society of America (PRSSA), where she served various executive positions and committees.
Following graduation, Sudol went on to attain her Master's degree in Strategic Communication with an emphasis on Agricultural Communication from Radford University.
Sudol joins the FCV team with extensive internship experience and industry expertise. While at Virginia Tech, Sudol served as a Communication Assistant at Virginia Cooperative Extension and an intern for the College of Agriculture & Life Science Marketing & Communication Department. Additionally, she served as an Undergraduate and Graduate Teaching Assistant for the Agricultural Technology Program, providing support for classes including Communication Skills, Personnel Management, and Professional Selling in Agriculture.
Regarding her new position, Sudol shared, "I'm excited to bring my education, experience and enthusiasm to the Farm Credit marketing team. This position allows me to serve the industry by forging connections with the producers we serve and educating consumers for the benefit of the industry. My expertise in social media, videography, and journalism will surely be an asset in my endeavors to share the story of ag through the Farm Credit lens."
Laura Staley, Director of Marketing, said, "Jenna's enthusiasm for the industry and working knowledge of agriculture and the rural communities that we serve are an asset to her role in communicating the FCV vision and story to customer-owners. She is a great fit for FCV and our membership."