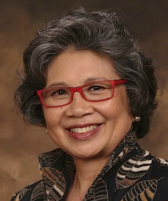 GeriJoy is pioneering a game-changing innovation for aging and geriatric care that leverages the best of both human and technological capabilities.
New York, NY (PRWEB) October 27, 2014
Jennie Chin Hansen is CEO of the American Geriatrics Society (AGS) and recent past President of the 38 million member AARP during the US health care reform debate. The AGS is the nation's leading membership organization of geriatrics healthcare professionals, whose shared mission is to improve the health, independence and quality of life of older people through advancing research, academic geriatrics, policy and system changes on behalf of our society's growing complex and frail older adult population. Hansen's advisory position with GeriJoy does not constitute any current endorsement by AGS.
Previously, Hansen spent over 20 years with On Lok Senior Health Services, a community-based health plan in California and the prototype for the federally enacted, globally capitated Program of All Inclusive Care for the Elderly (PACE) for Medicare and Medicaid, a coordinated system of care. PACE operates now in 30 states across the country.
Her background includes work in administration, federal policy, advocacy, system development, public and community health and affordable housing as well as academia. She has served as a federal commissioner for the Medicare Payment Advisory Commission (MedPAC), and she currently sits on the board of the Institute for Healthcare Improvement (IHI) and the SCAN Foundation along with leadership roles with policy advisory bodies including the NIH National Advisory Council on Aging and the National Veterans Administration Advisory Committee on Geriatrics and Gerontology.
Based on decades of leadership in the industry, noticing the pain points of older adults, families, clinicians, caregivers, and the organizations that represent and serve them, Hansen commented, "GeriJoy is pioneering a game-changing innovation for aging and geriatric care that leverages the best of both human and technological capabilities. I'm excited to help guide this outstanding team towards the day when every geriatric care provider will consider GeriJoy as a multifaceted solution in their portfolio of care."
Joining GeriJoy's advisory board together with Hansen is Esther Dyson, chairman of EDventure Holdings and founder of HICCup (Health Initiative Coordinating Council). HICCup runs The Way to Wellville, a five-year project dedicated to fostering and measuring the impact of critical-density health programs. Dyson is an active board member for a variety of companies in healthcare and other fields, including 23andMe, Luxoft, Meetup, PressReader, Voxiva, XCOR Aerospace and Yandex. Her current health-related investments include Applied Proteomics, Genomera, GeriJoy, HealthEngage, Health Loop, HealthTap, i2dx, Keas, Medico, Medivo, Omada Health, Organized Wisdom, PatientsLikeMe, PatientsKnowBest (UK), Resilient, Tocagen, Valkee (Finland) and Vita Portal. She also sits on the boards of several nonprofits such as the Personal Genome Project, and served as founding chairman of ICANN.
Dyson said about joining GeriJoy's advisory board, "I invested in GeriJoy in late 2012 when I met the company at Blueprint Health. I love the way it combines technology and genuine personal interaction to provide people with companionship remotely no matter where they are living."
About GeriJoy
GeriJoy makes dementia care more cost-effective and more joyful. GeriJoy's specially-trained remote caregivers offer 24x7 companionship, supervision, and clinical support for older adults through tablet-based avatars, improving care, increasing peace of mind, and lowering overall cost of care – which totaled $214 billion last year just for Alzheimer's care in the US. GeriJoy's avatars appear as adorable talking pets, allowing GeriJoy to build joyful friendships with people who are otherwise difficult to engage due to cognitive, memory, or behavioral issues. The startup has won numerous accolades from organizations like AARP, TEDMED, and the US Senate, and is currently being deployed by leading care providers across the US. See GeriJoy in action at http://gerijoy.com/video#CustomerStories or contact GeriJoy at info (at) gerijoy (dot) com.